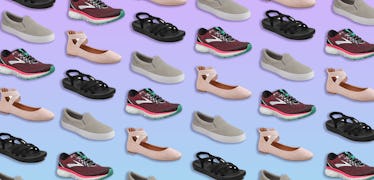 According To A Podiatrist, These Are The Kinds Of Shoes You Should Be Wearing For Bunions
Elite Daily/Amazon
Bunions can be a pain — literally. It's tough to find a great pair of stylish shoes that give your feet enough space to breathe. Here's the good news: The best shoes for bunions protect your feet without compromising on style.
According to a board-certified podiatrist, Dr. Suzanne Fuchs of LuxePodiatry in Florida, "The best shoes for bunions are those that have a wider toe box. A shoe that is too narrow will put increased pressure on the big toe joint causing rubbing and friction on the bunion."
But how can you tell if a shoe has a wide toe box? The toe box is the front part of the shoe that houses the ball of your foot to your toes, and since this is where bunions tend to form, it's important to look for a shoe with extra space here. While pointed-toe heels are pretty much out, there are plenty of wide-toe wedges, flats, and sandals that won't irritate your bunions. The key here is to find a pair made in a soft flexible fabric or one that has built-in arch support.
Dr. Fuchs elaborates, "I recommend wearing softer fabrics with more give. Quilted stretch fabrics and soft leather are always a great choice. A shoe stretcher can come in handy and works on 100 percent genuine leather." (Here are a few shoe stretchers for bunions that we've reviewed.)
But enough talk, here are the best shoes for bunions so you can walk pain-free.