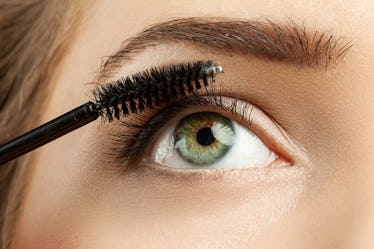 These Are The Best Lengthening Mascaras On Amazon — & They're All Under $15
If you're dealing with short lashes, the best drugstore lengthening mascaras can help give you the added lift you've been searching for — and at a fraction of the cost of luxury brands. Some mascaras are even formulated to help strengthen your lashes each time you apply.
There's a wide variety of fantastic drugstore mascaras on the market these days — so before you start shopping, you'll want to think about exactly what it is you're looking for. In addition to length, do you want a bold and volumizing mascara that will give you dramatic lashes? Or, do you need a water-resistant mascara that will hold up during even the most sweltering days?
Ingredient lists are another important thing to consider. If you have sensitive eyes or wear contacts, it's a smart idea to choose a hypoallergenic mascara, or at least one that's been ophthalmologist-tested. And if you have brittle lashes that might benefit from fewer harsh ingredients, then an organic option is the way to go.
You'll also want to pay attention to the brush type. Both rectangular and pointed brushes will add length, and a curved brush will help add curl to straight lashes, according to Cosmopolitan. Of course, there is also the much-debated question over whether nylon or plastic wands are better. InStyle reported that plastic brushes typically work best for lengthening and separating, but since they grab less of the formula, you might have to apply several coats. And if you just can't stand the texture of plastic wands, don't worry, there are still awesome lengthening mascaras with traditional nylon brushes.
Take a look at the best drugstore mascaras for lengthening below. All of them are under $15 and highly rated on Amazon, and most of them are cruelty-free as well.