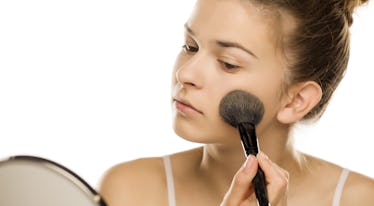 These Brilliant Powder Foundations Give You Full Matte Coverage Without Caking
Vladimirfloyd / Fotolia
Powder foundations can provide some advantages over liquid ones. Travel-friendly, they often come with a mirror and can be good for touch-ups throughout the day. They're also good for mattifying oily skin, and those with combination or acne-prone skin may find powder a better finish and less likely to clog pores. And while powder foundation had a reputation of being cakey in the past, today's best pressed powder foundations for full coverage can provide a natural look that doesn't settle or crease throughout the day.
Additionally, many makeup artists will counsel to avoid mixing powder makeup and liquids like blush and highlighter directly on top of each other. So if you prefer powder blush, you may find that it sits better over powder foundation. But really, at the end of the day, it comes down to your personal preference.
The trick to getting full coverage out of a powder foundation is using the right technique. Whether you use a brush, sponge, or even your fingers will have a lot to do with how it sets on your skin. A foundation that might be sheer with a kabuki brush can provide full coverage with a damp Beautyblender. This is also one reason powder foundation can be so versatile: In the mornings, it can be applied wet or with a thicker brush and cover up scarring, redness, and uneven skin tone. In the afternoon, a quick pat with a sponge or swipe with a brush mattifies and provides a quick refresher. Because many pressed powder foundations come with mirrors and applicators, this can be done on the go as well.
No matter what your needs, the best powder foundations can be used on oily or dry skin and come in a range of price points so you can look great for as little as $7.