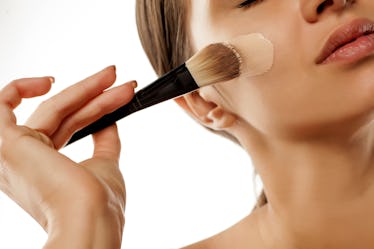 These Brushes Are Must-Haves For Anyone Who Uses Liquid Foundation
Finding the perfect liquid foundation is hard enough, let alone having to worry about the tools that you apply it with. But once you have, it's crucial to invest in one of the best liquid foundation brushes. I mean, if you're going to spend all that money on makeup anyway, you might as well invest in the right accessories to ensure it lives up to its full potential.
If you're currently using a sponge or your hands to apply your foundation, you might want to rethink it. Sponges are less versatile than brushes, and many reviewers of the products you'll find below are all ex-Beauty Blender-devotees who realized brushes work way better. As for your hands? Not only do they apply product less smoothly and evenly (hello, streaks), but you're also at risk of spreading germs all over your face, which increases your chances of breaking out.
There are a ton of great makeup brushes to choose from, but once you determine what type of coverage you're looking to achieve — light, medium, or full — you'll be one step closer to narrowing it down.
Ahead, you'll find five of the best brushes for liquid foundation for all types of coverage. They're all highly-rated, affordable, and made of cruelty-free materials — so what are you waiting for?