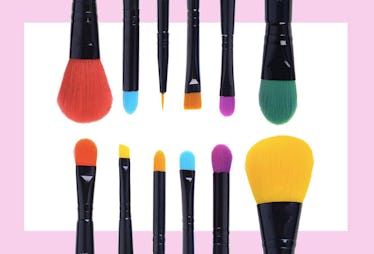 10 Ridiculously Cheap Makeup Brushes (And Sets) That Don't Skimp On Quality
As tempting as investing in a full set of expensive makeup brushes might be, at the end of the day, the best cheap makeup brushes and sets are just as adequate at concealing, covering, sculpting, and slaying like a pro.
While there are certainly benefits in buying some of the pricier makeup brushes on the market (think: longevity and quality), if you know what to look for (in terms of shape, bristles, and density), you'll be well on your way to making the most of your makeup routine while catering to your complexion's unique needs.
Whether you've been dreaming of a full-coverage foundation brush, a multi-use collection to cover all your bases, or a travel-friendly set that won't take up too much space in your carry-on, there's an affordable option for everyone. There are hypoallergenic brushes, vegan ones, and there's even a set that's constructed from eco-friendly materials. Plus, some of the options on this list come with bonus accessories like beauty blenders, makeup brush cleaners, and cosmetic bags. And get this: The most expensive set on this list costs just $25.
So without further ado, I present you with the best makeup brush sets that won't break the bank.