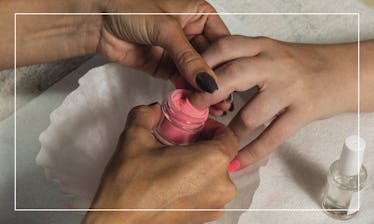 It's Easy To DIY A Salon-Quality Manicure At Home With These 4 Nail Dipping Powder Kits
Neal Bryant / Shutterstock
Getting a long-lasting manicure usually means a trip to the salon, but the best nail dipping powder kits can help you DIY a durable, cost-effective manicure at home. Dip powder is trending among nail polish enthusiasts for good reason: Unlike traditional acrylic and gel manicures, dip powder doesn't require bulky equipment (like a UV or LED light) to set and maintain. Plus, the steps can be relatively easy to master.
But how does nail dipping work? First, you brush a base polish onto a buffed and shaped nail. This acts as a glue when you dip your nail into a pigmented powder to add color. After dipping, you add another coat of base, alternating between adding the base coat and powder until you've achieved the desired saturation. Then, lightly buff out any imperfections in the powder layer and file your nails one more time before brushing on an activator coat to cure (or harden) the nail and finishing it off with a glossy top coat. With many dip powder systems, if you follow the directions and treat your nails delicately, you can produce a manicure that lasts several weeks. And removing your manicure just requires some acetone and a file.
When you're shopping for a nail dipping powder system, make sure to look at which items are included in each kit. Some kits have everything you need to get started, while others require you to buy some components, such as files or buffers, separately. Also make sure you pick a kit with colors you like — dip powders come in a huge range, from clears and pinks to neutral grays to bright reds. Finally, if you'd like to add some extra length to your natural nails, you can choose a dip powder kit that includes tips.
The prices of dipping powder kits can vary widely depending on the brand and how many components are included, but all the kits on this list are cheaper than repeatedly visiting the salon. Here are the best kits available on Amazon to help you give yourself a high-quality dip powder manicure at home: