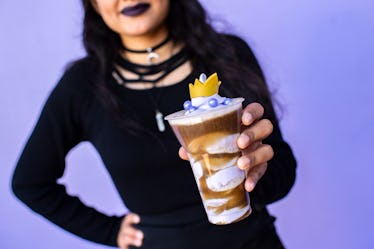 The Disney Villains After Hours Treats Are Wicked Delightful
Courtesy of Disney Parks
Even though you root for the heroes in Disney films, there's something so intriguing about the villains. You can't stop yourself from singing "Poor Unfortunate Souls" from The Little Mermaid, and cracking up at whatever Hades from Hercules says. So you'll be pleased to hear that Disney World's villain-themed event has arrived — and the 2020 Disney Villains After Hours food guide looks wicked delish.
According to the event description, Disney Villains After Hours is a special ticketed event at Magic Kingdom park on select nights. Celebrating some of the most iconic villains of all time, the event includes special shows, photo ops, and of course, Insta-worthy food.
It's no secret that Disney knows how to make every foodie's dream come true — and this event is no exception. All over, you'll find delicious treats that are inspired by some of your favorite Disney villains like Ursula, the Queen of Hearts, and Jafar.
There's much to eat and see, which is why you'll need this list of Disney villains treats to know exactly where to go when you want a snack. Don't fret if you have no plans to travel to Disney World right now. The Disney Villains After Hours takes place now through July 10, 2020, so you have plenty of time to book your flight.