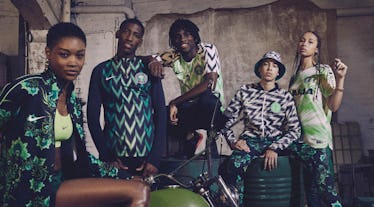 The World Cup Jerseys That You'll Want To Cop RN, Because One Country Already Stole The Show
Remember how insane the fashion was at the Opening Ceremony for the 2018 Olympics in PyeongChang? Teams rolled in wearing specially designed athleisure that would give any high fashion collection a run for its money. Guys, get ready for more exceptional sporty style. The 2018 World Cup jerseys are so good that you'll want to wear them on and off the field, which should honestly come as no surprise seeing as many of them were designed by Nike and Adidas. As far as which brand's collective designs are the coolest? The referee is still out on that one.
I admittedly don't follow soccer at all. Literally at all. So bear with me as I try and sound knowledgeable or at least coherent when I reference *sporty* things. The World Cup officially kicked off in Russia today, with Russia beating Saudi Arabia 5 to 1 in the inaugural match. While I'm sure this was thrilling to many and devastating to others, the highlight of the game for me was the goalie in the banana yellow head-to-toe look. That guy was slaying it style-wise, cheers for him. If you're like me and couldn't care less about the actual outcome of the World Cup but love to analyze team jerseys in sartorial context, then read on in delight as I go through what I believe to be the nine best team uniforms for the 2018 World Cup.
Nigeria
If there's one country that's been making waves—no, tsunamis—for their jerseys it's Nigeria. The Nike-designed shirt features a zig-zag design that's akin to an optical illusion, with the pattern on the arms differing in colors than that of the body. The print is inspired by the team's name, which is Super Eagles—it's easy to see how.
Cameroon
This jersey looks a mix between a transformer and Gumby so naturally I love it. If someone came running at me at full speed in one of these there's no doubt I'd be at least a little intimidated.
Japan
Leave it to Japan to ace a jersey that combines minimal cool with an eye-popping color palette. The printed design mirrors exposed stitching ("so hot right now," read in Mugatu's voice) and the all-blue color palette allows the Japanese flag and red collar detailing to pop.
Croatia
Check, mate! I love a bold graphic design and this jersey nails just that with its red and white checkered pattern. Two edges of each square are feathered with mini jagged teeth, giving the jersey a blurred effect overall.
Mexico
Lime green ombré in graphic line form? Aaaaand sold. Evidently people love soccer jerseys featuring a trompe-l'oeil design detail. I do too.
Sweden
Watch out banana goalie, you've got some competition! Sweden's jersey is a more highlighter shade of yellow and features a royal blue collar and navy side stripes. Barely there diagonal lines add a cool design detail to the body of the shirt.
Netherlands
Another crazy geometric line design! But this time, it takes up the whole shirt. There are diagonal lines, checkers, and cute angles, galore—all crafted from a soothing blue color palette.
Australia
Yes, the kangaroos are adorable, but the sleeves of this jersey are what really brings it over the edge. They feature line motifs of what appear to be mountains or waves (or both?) and kind of remind me of tigers. Roar!
Spain
Red hot! I love the asymmetrical graphics of the Spanish uniform. One features a cool and colorful interlocking diamond design while the other is outfitted simply with yellow shoulder stripes. It hits the perfect balance.