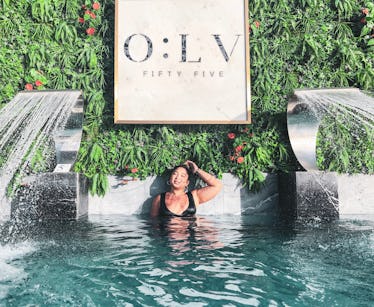 11 Hotel Pools That'll Get You The Best Plandid "Splash" Pics, Because It's All About The 'Gram
Summer is almost here, which means that it's time for one thing: pool season. 'Tis the season for bathing suits, giant pool floats, the aroma of sunscreen, and maybe a frozen cocktail or two (if you're 21 or up, of course). You might be lucky enough to have a pool of your own at your apartment or house, but if you don't, you're probably on the hunt for some Instagrammable ones to complete your feed's summer aesthetic. It's the perfect time for you to take a much-needed getaway, so you should take a look at this list of the best hotel pools around the world to inspire your vacay planning.
I'm not saying that you should plan your entire vacation around what the pool at your hotel looks like, but it definitely doesn't hurt working some pool time into the itinerary. A beautiful pool situation is always a plus when you're traveling. Even if you're in a beautiful new destination that you really want to go out and explore, sometimes, a day lounging poolside with a frozen margarita in hand is all you need to put the cherry on top of a perfect trip.
Here are just a few of some of my favorite hotel pools across the globe. Trust me: These are already on my bucket list and I'm ready to pack my bags ASAP.