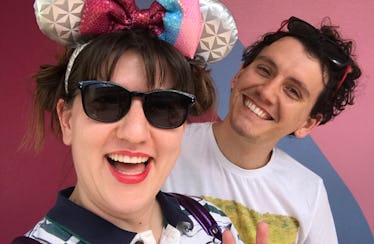 My Long-Distance BFF & I Swear Doing These 10 Things Keeps Us Close
Being long-distance from your bestie may sound difficult AF, but I believe it's possible to maintain a strong friendship no matter where you both live. I moved from Florida to New York, and then to LA, so I have a lot of friends throughout the country. I try to keep in contact with as many as possible, but the strongest of all my long-distance relationships is the one I have with my best friend. We've kept close over 10 years of not living in the same state, and it's because there are long-distance friendship rules my best friend and I live by.
My bestie Adam and I met in high school and immediately clicked. I knew I found my long-lost twin. We had the same love for Disney, danced around in public together, and had joint birthday parties. He's always felt like family to me, which makes him the forever type of friend.
You can't let something like the miles between you and your best friend diminish something so special. That's why my bestie and I have made the extra effort with these 10 long-distance friendship rules. (Of course, we've never really put these rules down on paper, but they are the golden rules we live by.) I can guarantee you they work, because Adam is still the PB to my J, and I'm never letting go of my person.