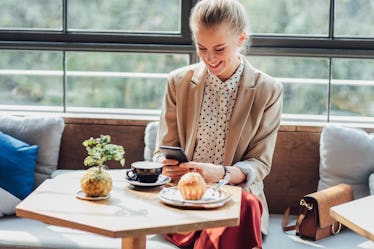 This Is The 1 Thing Matchmakers Tell Clients About Sending The First Text, So Take Notes
You know how it goes: You first meet someone, there are sparks, you're attracted to them, and you want to know more. You get home, whip out your phone, and type out the perfect text to send them. Then, you delete it because you realize it was all wrong. So you type out another text, then another, and another, until suddenly it's 1 a.m. and you fall asleep clutching your phone. It can be stressful and intimidating to send that first text — I get it! But, looking at what matchmakers tell clients about sending the first text might just calm your nerves enough to hit "Send."
Obviously, texting isn't everything, but when you first meet someone, sending that first message might feel like it could make-or-break whatever happens moving forward. "First text should always be along the lines of something positive," Susan Trombetti, matchmaker and CEO of Exclusive Matchmaking, tells Elite Daily. Your first text could be "sweet, or flirty," Trombetti continues. "It could be as simple as 'It was great meeting you and look forward to to seeing you again!' Or it could be 'You looked really pretty,' or something along those lines. It shouldn't be risque photos or group texts. Something sincere works great and is always welcome."
That's it! Keep it simple and keep it sweet.
Once you get past that first text and you've developed a rapport, Trombetti suggests not relying too heavily on texting moving forward, and meeting face-to-face. "I always say conversations are best in person or on the phone," she explains. "I know people think they get to know each other through text though, so if you must I would ask something about how much they like their job, or I would like to get to know them better on a date. Always aim for sincere, without grilling."
Again, the key advice here for the first text is to be kind and genuine. "I typically advise my clients to keep the early text messages simple," Kat Haselkorn, Washington D.C.-based matchmaker at Three Day Rule, tells Elite Daily. "Be polite, use proper grammar, and steer the conversation toward meeting up in person sooner rather than later." Again, keep that first text sweet and simple. You really can't go wrong.
Specifically, Haselkorn says not to get carried away by how much you like someone. "Don't overdo it with the emojis," she explains. "A smiley face or thumbs up at the end of the first message is OK, but try to restrain yourself when you're starting a new text conversation with someone you're interested in."
To send the best possible first text, you need to be in the best possible mood. At least, that's what one expert says. "Remember that words themselves are only seven percent of communication, so using a modality like texting for your first connection point may constrict the exchange," Heather Kristian Strang, spiritual guide and matchmaker, tells Elite Daily. She suggests being in the "best energy you can be in before sending a text," which could mean anything from going on a run to ease your nerves or meditation to relax. "This increases the likelihood of less miscommunication or misinterpretation in texting."
There are a million variations of what a great first text could look like, so try not to get too caught up in what exactly to say. Be yourself, be sweet, and you'll nail it. Suggest getting coffee or compliment their outfit. It'll keep things low key, while also letting them know you're interested. Most of all, don't stress! You've got this, girlfriend.