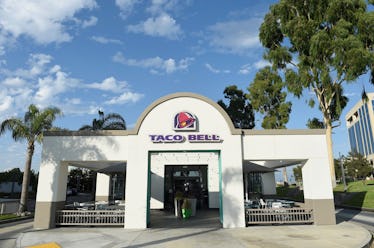 Genius Teen Takes Senior Pictures At Taco Bell & They're Cheesy In The Best Way
Joshua Blanchard/Getty Images Entertainment/Getty Images
Do you remember your senior picture? I know that when I took mine, I hadn't even started senior year of high school and the cheesy photos were taken in a bland studio that smelled of film. Shot after shot I was forced to wear dusty boas and other lame accessories that did nothing for my complexion. So when I look at the senior pictures kids are taking today, I feel some serious FOMO. Today's seniors are allowed more creativity with their pictures and they have singled-handedly made the glamour shots of the past, obsolete. But no one is more creative than a Michigan teen who took her senior pictures at a Taco Bell.
Lindsey Cook is the most recent teen to revolutionize the cheesy senior portrait by taking hers at Taco Bell. Why didn't I think of that? Cook is a senior at Stevenson High School in Sterling Heights, Michigan and she loves Taco Bell so much, she decided to memorialize her four years of high school by taking her pictures at a TB location. Cook told Teen Vogue,
I have always loved Taco Bell and I'm obsessed with it and I've said since 7th grade that I was going to take my senior photos there and I finally did. Everyone seems to love them and think it's funny.
Not only is the photo quality amazing, but Cook's food selection is too. She seems to have opted for a quesadilla — which is a delicious choice anyone can agree with — and a strawberry freeze, another solid menu hit.
Cooks senior pictures were so great, they even got Taco Bell's attention on Twitter, and TB left her this comment.
What could it mean? Judging by the multitude of tacos in the gif, I'm going to take a leap of faith and guess that Taco Bell is offering Cook free food for life. OK, I don't know that for a fact — but if I were Cook, that's what I'd be hoping for.
Though Cook's senior pictures were hilarious, this isn't the first time a student took their senior pictures inside of a Taco Bell. Back in 2015, we reported about a senior girl named Brittany Nicole Creech, who also loved TB so much, she took her senior pictures inside one of Taco Bell's restaurants.
One of Creech's life goals was to be in a Taco Bell commercial, but because it was taking too long to happen on its own, she took matters into her own hands by taking her senior pictures at one of TB's restaurants. See the photos below.
Seniors love thinking outside the box for their pictures and Taco Bell isn't the only backdrop they seek. Stefano Peiris was another senior, who also in 2015, decided he'd take his senior pictures at his local 7-Eleven.
He told Elite Daily he decided to take his senior pictures at 7-Eleven because,
I love making people laugh and I'm glad so many people enjoyed my senior pictures.
Dang, who knew 7-Eleven could serve as such an awesome backdrop for senior pictures? I guess the days of those horrible feather boas and glamour shots are long gone. Kids these days want their senior portraits to stand out — or go viral, depending on who you're talking to.
I'm just excited to see what other fun places senior pictures will be taken this school year. Maybe senior pictures will be taken at a Target? A McDonald's? A Starbucks? What about a Trader Joe's? Stay tuned!
Check out the entire Gen Why series and other videos on Facebook and the Bustle app across Apple TV, Roku, and Amazon Fire TV.