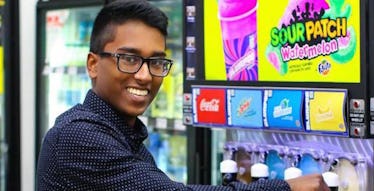 This Kid Took His Senior Portraits At 7-Eleven And They Are Glorious
For the most part, senior portraits are the worst.
Is leaning against a tree, or looking over your shoulder or staring off into the distance really how you want to be remembered forever?
Hell no. That's why every high school senior needs to take a page out of Stefano Peiris' book and make their senior portraits unique and fly as f*ck.
Stefano shared his epic senior portraits, taken at a local 7-Eleven, on Twitter on Sunday, racking up nearly 17,000 retweets in under 24 hours. Why? Because they are awesome, and everyone is jealous they didn't think of it.
So I took my senior pictures at 7-Eleven pic.twitter.com/tueoDLbDLu — Stefano. (@Stefano_Peiris) October 11, 2015
As to what inspired the Hermiston, Oregon senior to take his 7-Eleven pictures, Stefano told Elite Daily,
I love making people laugh and I'm glad so many people enjoyed my senior pictures.
Now all he needs to do is marry the girl who took her senior portraits at Taco Bell and life will be complete.
Check out the many looks of Stefano below.
Ready for checkout Stefano:
Hanging in the parking lot Stefano:
Price check Stefano:
"Which flavor you want, girl?" Stefano: