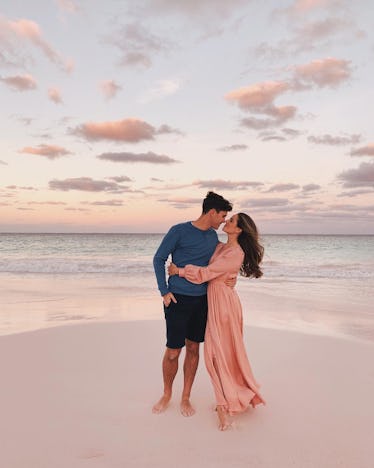 A Photographer Reveals 7 Smart Tips For Teaching Your SO To Take Better Pics Of You
It's official — we're living in the age of Instagram boyfriends and girlfriends. For many people, it's practically a relationship requirement to find a partner skilled enough to take great photos of them on fun dates or vacations. And with so many people building their business or personal brand on Instagram, it's no wonder this is important! But not everyone is a natural, so you might need to teach your partner to take better photos of you. This is totally possible with a little patience and coaching.
One of my favorite couples on social media is Julia Engel and Thomas Berolzheimer from Gal Meets Glam. Not only are they relationship goals, but they've also built an Instagram brand of over one million followers on Julia's account and started a clothing line called Gal Meets Glam Collection together. Thomas is a photographer and Julia is the face of the brand, so he's the guy behind the lens of most of the photos you see of her. I've always admired their work, so I was excited to learn from Thomas his tips and tricks for capturing such beautiful, colorful images. Any photographer, amateur or otherwise, can learn from these, and if you're trying to train bae to be more comfortable behind the camera, send this story their way. Maybe we can all get just a little closer to being as glam as Thomas and Julia!