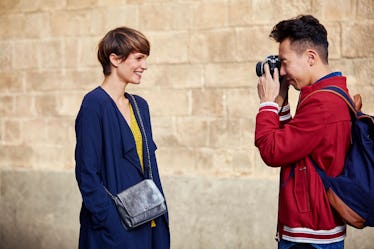 9 Signs You Have An Instagram Boyfriend Or Girlfriend, So DM This Their Way
Becoming an "Instagram boyfriend" has become a fully fledged Thing with a capital T. You know what I'm talking about — you've seen the guy faithfully (or begrudgingly) snapping away as his girlfriend artfully poses at brunch. And a new study released by Adobe that surveyed 1,000 American millennials who use Instagram at least weekly, explored the signs you have an Instagram Boyfriend.
But, for starters, let me clear something up. Being an Instagram Boyfriend (or an Instagram Girlfriend!) is a good thing. No, seriously. The study found that Instagram Boyfriends and Girlfriends have come to embrace the responsibility. In fact, the study found that 88 percent of millennial Instagram users say getting the perfect shot of someone else (like your significant other) makes them feel happier.
Furthermore, another 87 percent say that taking pictures of their significant other or friends while they travel makes the experience more fun and memorable for them. So, don't feel bad about making your SO snap those pictures of you looking out into the distance during your beach vacation. They're probably actually enjoying the process.
But how do you know if you have a real Instagram Boyfriend or Girlfriend, or if you just have a partner who takes pictures of you from time to time when you have no one else there? Because, I mean, let's face it. Being a true Instagram Boyfriend or Girlfriend is just another level of devotion to getting that perfect shot.
Specifically, based on the study's findings, we were able to boil it down to nine primary responsibilities. If your partner does all nine of these things, send them this article ASAP, because they are officially an Instagram Boyfriend or Girlfriend and should be notified immediately.