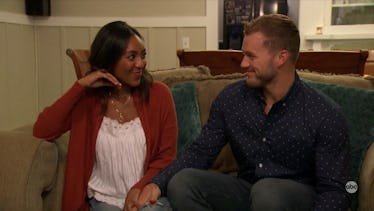 Tayshia & Colton's Body Language On 'The Bachelor' Is All You Need To Root For Their Love
ABC
Things are heating up on this season of The Bachelor, and with only three contestants still in the running, it's starting to get real. This season's bachelor, Colton Underwood has already met his final three ladies' families and asked for their blessings to possibly propose to their daughters. It's been a wild ride, but considering the final three ladies, Tayshia and Colton's body language on The Bachelor definitely seems to indicate that the California girl might be the one for Underwood.
Underwood and Tayshia have certainly had a lot going for them. They've been bungee jumping together, skydiving together, and even had a quiet night at Underwood's home in Denver, proving that they don't need excitement to bond. In fact, one might argue that the couples' date in which Underwood and Tayshia simply cooked dinner together and then sat down in front of the television to eat was the sweetest date of the season.
Now, as the ladies and Underwood head into the fantasy suites week, viewers are even more invested in what will happen, and who will make it to the finale. While Tayshia's family was definitely protective of her during the hometown date, Underwood ultimately gave her a rose.
So, before they head into the fantasy suites and Underwood finally jumps that fence, let's break down their body language during their hometown date, because it's worth investigating.