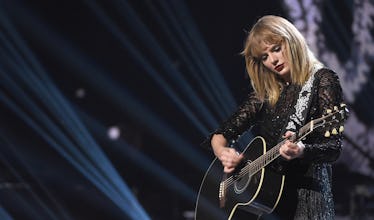 Taylor Swift's Emotional Speech About Appearances Not Being Everything Is A Reminder We All Need
Kevin Winter/Getty Images Entertainment/Getty Images
Just when you think you're out of Taylor Swift's orbit and able to move forward with your life, she sucks you right back in. Swift has been crushing her Reputation tour following the release of her revival album by the same name last fall. You can find countless photos and videos of crying fans shout-singing along to her biggest hits in stadiums full of thousands and thousands of people. TBH, it all looks pretty magical. Swift upped the magic factor at her recent performance in Minneapolis when she took a moment to get real. Yes, Taylor Swift's speech about appearances not being everything took fans by surprise in more ways than one.
According to fan reports from the concert, it seems like Swift's Minneapolis performance was pretty straight forward in the beginning (you know, full of things like epic staging, awesome backup dancers, and, of course, all of your favorite T-Swift classics.) However, the night took a different, more emotional turn when she decided to sing a throwback song off her very first album — "Tied Together with a Smile." Back in 2007, Swift revealed to Entertainment Weekly in an interview that she wrote the song after finding out a friend of hers was living with an eating disorder. Before breaking into the ballad, Swift gave a sobering, inspirational speech about self-acceptance and the pressures of keeping up appearances.
According to Swift, she got the idea to play throwback songs from her fans' requests on social media. She opened her speech by saying, "I want to play [a song] that's, um, really pretty old, on my first album."
Based on fans' videos, that was enough to make them go wild.
From there, she continued,
One thing I have noticed in my life is you can never judge what somebody else is going through, even if they seem like they have it all together. They seem like, 'How can they ever have any problems?' Like, you're looking at somebody who is maybe really beautiful or seems like they have it all together. Maybe they have a life that you're really envious of. But, I've learned that appearances aren't everything. Just because somebody looks happy doesn't mean they are. Just because somebody looks healthy doesn't mean they are.
Swift added she wants people to feel like they can just be themselves and be able to express when they're going through something hard. "There's so much pressure on everyone these days to have it all together, to have a perfect body, a perfect life, to know exactly where they want to go with their life. I think the stress and the pressure of not being able to say that they're hurting has really taken a toll on a lot of people," she told concert-goers. "So I'm just asking you, just try to be kind to yourself. Just know that there are so many people that are going through the exact same thing that you might be going through, whatever it is."
You can read the full transcription of Swift's touching speech below:
Sure, Swift might have a "reputation," but for right now, let's let that reputation be about this very real, very necessary message she's sending out to everyone.
You can listen to her song "Tied Together With A Smile" in the video below, and see her on stage in the Midwest and South this September, if you're lucky enough to snag a ticket.