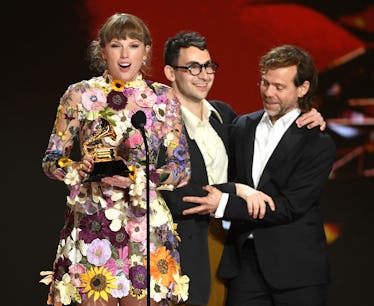 Taylor Gave Joe The SWEETEST Shoutout In Her Album Of The Year Grammys Speech
Kevin Winter/Getty Images Entertainment/Getty Images
After winning Album of the Year at the 63rd Annual Grammy Awards on March 14, Taylor Swift expressed her gratitude in a way that shook Swifties to their core. Usually one to be cryptic about her love life, Swift had no problem shouting out her man while accepting her golden gramophone. Believe me when I say Taylor Swift's 2021 Grammys speech shoutout to Joe Alwyn will melt you.
Swift won the award for her album Folklore, which she released as a surprise to fans in July 2020. When she took the stage to accept her trophy, she was sure to thank everyone who was involved in creating it. The shower of gratitude didn't miss Alwyn, who not only supported Swift, but, as the singer-songwriter revealed in late 2020, actually helped her write several songs on the album.
"I want to thank all of my collaborators who are on the stage," Swift began. Swift then gave fans a rare peek into her personal life, shouting out "Joe, who is the first person that I play every single song that I write." She also added, "I had the best time writing songs with you in quarantine."
You can see the special moment when Swift gave Alwyn a shoutout below.
Alwyn initially wrote the Folklore songs using the pseudonym William Bowery, but in her Disney+ film, folklore: the long pond studio sessions, Swift revealed the true identity of the mysterious Mr. Bowery.
"Joe plays piano beautifully and he's always just playing and making things up and kind of creating things," Swift explained in the Disney+ film. "And 'exile' was crazy because Joe had written that entire piano part. He was singing the Bon Iver part, the 'I can see you standing honey, with his arms around your body, laughing but the joke's not funny at all.' He was just singing it. And I was entranced and asked if we could keep writing that one."
You can listen to Swift's song that was written with Alwyn below. He also co-authored "Betty."
Not only did Swift win big at the show, but she made history as the first female artist to win Album of the Year three times throughout the course of her career. Alwyn may not have been in attendance at the Grammys, but Swift made sure to share her spotlight with him anyway.