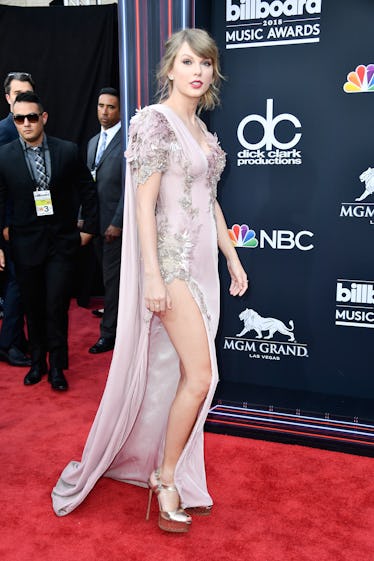 Call It What You Want, But Taylor Swift's Billboard Music Awards Dress Is So "Delicate"
Frazer Harrison/Getty Images Entertainment/Getty Images
Taylor Swift has been a serious topic of conversation lately. The singer recently kicked off her Reputation tour and as such is reigniting talk of past feuds and relationships. In the midst of her touring, though, she decided to finally grace the red carpet with her presence, and Taylor Swift's 2018 Billboard Music Awards look is straight fire.
Including her first Billboard Music Award nomination in 2009 up to 2017, Taylor Swift has been nominated for a whopping 46 Billboard Music Awards and has won an astounding 21 of those nominations. For 2018, the Reputation singer is up for five different potential wins: Top Artist, Top Female Artist, Top Billboard 200 Artist, Top Billboard 200 Album, and Top Selling Album. Personally, I'd vote for her to win all of those because after taking some time off the past couple years, Swift has come back with a vengeance and everything she touches basically turns into music gold. But that's just me.
Whether or not Swift wins all or none of those golden microphones, her red carpet look deserves an honorable mention. Swift's style has evolved over the years and her current vibe is possibly my favorite yet, so it's time to delve into the details and properly admire this lady's #lewk.
This is old school Taylor, from when she first started her career, when she was always doing the soft romantic looks. This could totally be lined up against her "Speak Now" or even her "Fearless" era designs and it would fit in seamlessly. The color may be millennial pink, but that doesn't mean it doesn't have the soft fairy tale princess feel of a decade ago.
But romantic gowns don't necessarily mean boring, and Swift's is no exception. The right side of her confection is actually strapless, and the feathers (or petals) are creating a bloom across the side of her bodice.
Face it, it's totally "Delicate." Taylor may have turned rock and roll, but a cat can't change their stripes.
The question is, did Taylor really fly all this way to just walk the carpet? Fans are highly doubtful. That's just not Miss Swift's way. If she's here, she probably performing, which means it's a surprise performance. Is this the "mystery duet" Kelly Clarkson's been teasing she'll do tonight?
A staple at many of the music industry's award shoes, Swift hasn't actually attended the Billboard Music Awards since 2015, when she was nominated for her 1989 album. Her look that year something I'd like to call, "Rockstar Angel." Please observe:
Swift wore a cut-out, beaded, white Balmain jumpsuit, wore her hair in a tousled messy style, and rocked a badass smokey eye. Never did I ever think that a white jumpsuit could look so badass.
The Bad Blood singer also carried a custom Edie Parker clutch emblazoned with the song's title, serving as yet another reminder to not cross her. The girl holds grudges like nobody's business, and rightfully so.
Swift's other most recent Billboard Music Awards appearance was in 2013, the year of Red. The singer ironically wore blue to the event but looked stellar nonetheless. Her beaded, blue Zuhair Murad mini-dress literally lit up the carpet and the Jimmy Choo sandals were the cherry on top (er, bottom) of the sundae.
I can't be 100 percent certain, but I think Swift also wore cat-shaped earrings that night. The studs appear to have ears and all Swifties should know how much of a cat lady the girl is, so I'm going to assume they're cats.
Swift continually kills it on the red carpet (and on stage) and the 2018 Billboard Music Awards were no different. Tay, my girl, keep doing you.