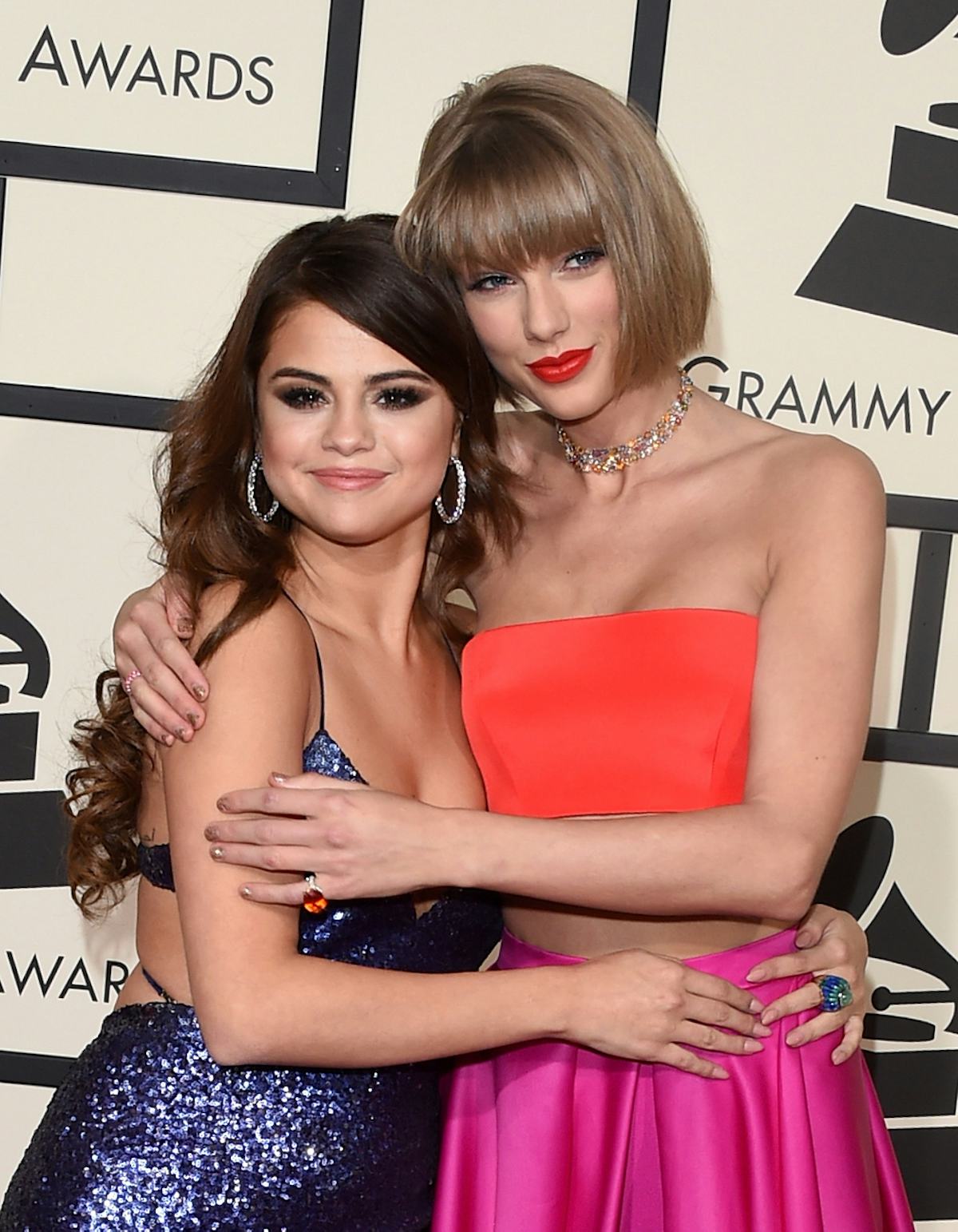 Taylor Swift's Instagram Has A Tiny Detail About Selena Gomez & You Prob Missed It
Jason Merritt/Getty Images Entertainment/Getty Images
Is there a cooler duo to roll with than Taylor Swift and Selena Gomez? I submit that no, there is not (and don't even try to fight me on it). In Hollywood, it must be nice to know that someone's got your back, and you have someone to lean on for support. And thanks to a sneaky Instagram detail some eagle-eyed fans saw, it's clear that Taylor Swift and Selena Gomez's friendship is still going strong, and it is the purest thing you'll see all day. It also involves Swift's cats, so believe me when I say it's worth reading about.
On Feb. 27, Taylor Swift took to Instagram and posted a video of her cats just chillin' out, relaxing. Obviously, the video itself was adorable because animals are involved. We all know that Swift is super-obsessed with her cats, too (I mean, she literally gave them a shout-out in her "End Game" music video), so this video didn't seem that out of the ordinary.
Only it was actually hiding a beautiful little tribute to her friend Selena Gomez. If you weren't quick enough, you probably missed the small detail.
Fortunately, a little thing called "screenshot" exists, friends!
So here's the video that Swift posted:
Cats! One looks majestic AF, the other looks a bit derpy, and they're both equally adorable.
But what does this have to do with Selena?
Let's take a closer look:
People, do you see it? I know everyone's focused on the cat, but look ABOVE the cat. There's a picture frame.
And in that picture frame?
YUP! That is totally our girl Selena hugging Taylor.
Even though there are some rumors swirling around that the two aren't as close as they used to be, it appears that they're still crushing the friendship game after all.
Plus, Selena's birthday message for Taylor Swift should have squashed ANY rumors that their friendship was fading.
On Dec. 13, Taylor Swift officially turned 28, and Selena's Instagram post dedicated to her friend was enough to make a grown woman (me) cry. It read:
I'm glad you were born. You write all the thoughts some aren't able to articulate. (ME!) Thank you for giving a voice to this world that is authentic and inspiring. I wish some knew how big your heart actually is.. it's fierce, bold and freaking wild with light. I'm glad you protect that. Love you @taylorswift
For some reason, the old-timey looking video just makes it even more precious. I don't even know why, but it does.
And the way they met is a friendship story that's a tale as old as time. When Gomez went on Kiss FM UK, the radio host asked how she and Swift first met. She responded, saying, "We actually dated The Jonas Brothers."
There could have been NO better way than this.
She continued, saying,
It was hysterical. Yeah. It was amazing because she was the girl with the big curly hair and all the bracelets and cowboy boots, and, ya know I was definitely up and coming. And, we just clicked.
And now look at how much they've grown together.
If all of the above hasn't sold you on their adorable friendship, then maybe Taylor's interview with E! News about Selena's friendship back in 2014 will. She said,
It's been the longest one I think either of us had really ... When your life changes and you become thrust into this really strange whirlwind where what your life is is different from what other people think your life is. And your life is commented on and your life is written about and fictionalized and all that. Both of us have kind of stuck it out and hung in there through all the different changes we've gone through.
Yes, ladies! Wave that friendship flag high and proud.