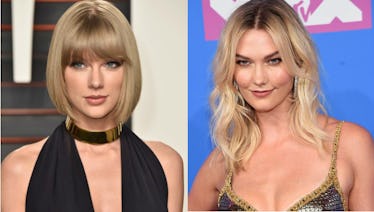 Taylor Swift & Karlie Kloss Just Shut Down All Those Feud Rumors With The Cutest Selfie
Pascal Le Segretain/Getty Images Entertainment/Getty Images | Jamie McCarthy/Getty Images Entertainment/Getty Images
Taylor Swift and Karlie Kloss want everyone to know that they're still besties! And a new selfie posted to Instagram is proving it. On Sunday, Aug. 26, Kloss posted a photo of herself and Swift that put to rest all of the long-standing rumors that they've had a falling out. Taylor Swift and Karlie Kloss' selfie is giving fans all the feels. They're beyond happy that Kloss and Swift's friendship is still going strong.
Kloss posted the photo to her Instagram on Sunday after attending Swift's Saturday Reputation show in Nashville. Swift is currently on her Reputation Stadium Tour which kicked off in May.
In the photo, Kloss and Swift are embracing, while Kloss holds her arm out to snap the photo. Swift's face is one of faux surprise and Kloss is sporting a huge smile. They definitely look like they're still the best of friends.
"No one puts on a show like @taylorswift 🎤✨," Kloss wrote in the caption of the photo. "#ReputationTour Nashville was out of this world, I am SO proud of you 🖤."
The two friends met way back in 2013 at the Victoria's Secret Fashion Show. Kloss, who is a model, made an appearance at the show. Swift and Kloss apparently hit it off when they met at the event and have been friends ever since. For a few years after, they were pretty much inseparable, but over the past year or so, their friendship has simmered down a bit — at least on social media. And that has caused fans to wonder if they had a falling out.
Here's a look at their cute selfie!
Rumors of friendship trouble really started to gain traction when Swift left Kloss' name out of her "Look What You Made Me Do" video. In the video, Swift wears a t-shirt with all the names of her squad members scribbled onto it. Kloss' name, according to eagle-eyed fans, was conspicuously missing. To add insult to injury, Kloss and Swift have barely spoken of each other in recent months, nor have they posted about each other on social media.
But now that there's a new photo of the two of them together, fans are overjoyed that their favorite friendship is still thriving in 2018.
"You don't understand how happy this picture has made me - true friendship at its finest!" one fan wrote in the comments of Kloss' Instagram photo.
Another fan totally agreed with Kloss' assessment that Swift is the best at putting on a show. "Your damn right Karlie, Taylor is the ultimate performer, the best ever love ya!!!" they wrote.
Someone else was just happy to know that friendships can and do last, even when success and career goals seem to come first. "Be still my beating heart. Made my day," the fan wrote "Friendships do last. I can die happy now😴"
So sweet!
While Swift has been on the road for her Reputation Stadium Tour, Kloss has been rather busy herself. She's been traveling these past few months with her longtime beau Josh Kushner. In June 2018, she announced on social media that she and Kushner had gotten engaged. So, life is really going well for both Swift and Kloss. Nice to know they still keep up with each other!