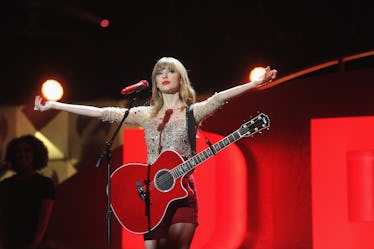 Taylor Swift Did The Sweetest Thing For A Pregnant Fan In Need & We're Sobbing
Jamie McCarthy/Getty Images Entertainment/Getty Images
From "You Belong With Me" to "Look What You Made Me Do," Taylor Swift has completely transformed her image over the past ten years, starting out as a pop-country gal and becoming the the grungy girl-power pop star she is today. But regardless of her style and sound, I think we can all admit that T-Swift has never failed to surprise us with her charitable acts. Recently, Taylor Swift helped a pregnant fan buy a house, and the story is actually kind of amazing.
E! News confirms the lucky fan — whose name is reportedly Stephanie — posted in the popular Taylor Swift app, The Swift Life, about the generous gift. Apparently, after a attending a Taylor Swift concert in Manchester, England, Stephanie was brought backstage by the pop star. After talking for a while, not only did Taylor offer to refund her entire concert ticket, but she also wanted to buy her a house. Yep, you heard that correctly. Stephanie was eight months pregnant at the time, and her apartment building had been shut down for health and safety reasons. Stephanie confided her story on the app, and wrote,
Long story short our first flat was condemned for health and safety reasons and we lost everything. To add to the stress, during this time Matthew [boyfriend] lost his job. My mum told Taylor and just asked her to make me feel special at her show I was attending in Manchester. After the show Taylor took us back to her dressing room where she told me, 'Stephanie, You've been in my life for a long time and you've never asked me for anything. You could have reached out and I would have helped you. But you didn't.'
While Tay could have easily brightened Stephanie's day with a free concert T-shirt or a signed CD, the singer went above and beyond in helping out Stephanie in her time of need. In addition to literally offering to buy her a house, Swift also offered to buy baby supplies for Stephanie to help out with her pregnancy and to make life a little easier. Stephanie continued her story:
[Taylor] told me she wanted to give me the money back for my ticket that night. What she actually did was help us buy a home and all I needed for my baby. She told me 'I want you to be able to enjoy your little girl, not have to worry about all this stuff.' That night she gave me her hand and lifted me off the ground. The same way she's done for 12 years. I love her forever. #SwiftStories #Taymoji #MySwiftStory.
Taylor is often connecting with fans around the world, and is always looking out for her beloved Swifties. In fact, this isn't even the first time Taylor has taken extreme measures to help out a fan in need. A few years ago, she had connected with a fan over social media, who was going through a hard time while having trouble getting pregnant. When the fan was eventually able to have her first son, Swift visited the fan at her home in Connecticut, bearing a wide variety of incredible gifts from FAO Schwartz for the new baby.
Regardless if you're a total Swiftie or if you're still not quite sure where you stand with T-Swizzle, there's no denying that her random acts of kindness for her fans are super admirable. From helping out a pregnant and homeless fan to celebrating a long-awaited pregnancy, Taylor is the friend that we all secretly wish we had... because honestly, a friend that buys a house for a friend in need is seriously a beyond-amazing friend.
Check out the entire Gen Why series and other videos on Facebook and the Bustle app across Apple TV, Roku, and Amazon Fire TV.