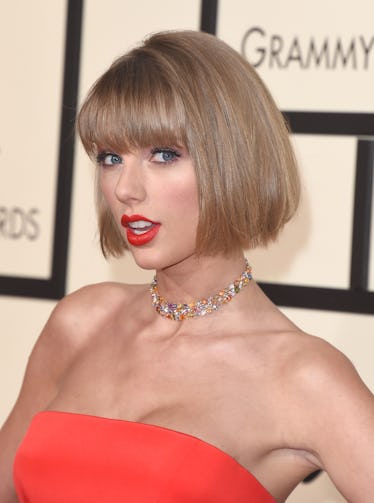 Diplo Threw Major Shade At Taylor Swift & Now Her Fans Are Firing Back On Twitter
Jason Merritt/TERM/Getty Images Entertainment/Getty Images
Taylor Swift is no stranger to headline-grabbing feuds, but before a new beef gains much momentum, Diplo is attempting to shut it all down. Buzz of a Taylor Swift and Diplo feud kicked off after he made a comment about the pop star in a recent interview. As you'd imagine, fans weren't having it.
In a leaked Rolling Stone interview, Diplo threw shade at the "Gorgeous" singer, noting:
Music is in the hands of the kids. Streaming is literally what kids want to listen to over and over again. They want to listen to [Post Malone's] "Rockstar" and [Cardi B's] "Bodak Yellow." They don't want to listen to, like, [Swift's] "Look What You Made Me Do."
Oh really?
Diplo reportedly added, "That music doesn't relate to them at all. I don't think it ever did. They were only given that by radio and marketing budgets. I'm impressed with Post Malone. I can relate to him more than Taylor Swift."
Swift's fans went off and they definitely didn't hold back, with one Swiftie tweeting: "Why is Diplo getting involved in everything Taylor does lol he body shamed her in the past as well. He's a f*ck*n 40 year old man."
Another echoed the idea, tweeting: "Sorry why is Diplo blabbering on to Rolling Stone about Taylor Swift not being relatable? Ofc u can't relate you're a 30 YEAR OLD MAN."
One fan made this comparison: "Diplo trying to lecture Taylor Swift on relatable music is like Trump telling Obama how to have manners."
This fan found Diplo's comment laughable, explaining: "I'm cracking up at Diplo saying Taylor's music isn't relatable when she's literally built a career & fan base around her relatability."
I mean, look at this footage from her Secret Sessions... I'd say she's relatable.
Another noted that he should probably stop name dropping to grab attention, tweeting: "Hi ‪@diplo, stop using Taylor Swift's name to be relevant. She's not on your level and you will NEVER reach her level. Nice try."
One famous fan Lily Allen offered this idea: "Maybe 40 year old man should stop lecturing much younger and more successful woman."
Another had this simple suggestion: "Diplo sweetie if you don't like Taylor stop talking abt her that's easy u see."
Others summed it up with oh-so-many eye rolls and other gifs:
In response to all the backlash, Diplo fired off this tweet, trying to diffuse the situation: "Calm down swifties 'all too well' is one of my fav songs."
Back in Nov. 2014, Diplo kicked off a firestorm of hate from Swift's fans after he tweeted: "someone should make a kickstarter campaign to get Taylor Swift a booty." Many found the body shaming tweet to be in poor taste and her fanbase was understandably left furious by his comment. Even famous friend Lorde was quick to fire back in support of her bestie, tweeting: "Should we do something about your tiny penis while we're at it hm." Savage.
Diplo found that Swift's fans are super loyal and admitted in a GQ Style magazine interview:
All I know is, don't ever get into a feud with Taylor Swift. She has like fifty million people that will die for her. It's like an army that's worse than North Korea. You can't step into that arena. That was something I was never prepared for. One of the biggest mistakes of my career was definitely f*ck*ng with her.
The two ended the feud by making nice at the 2015 Grammy Awards, even snapping a friendly selfie together.
You'd think Diplo would have learned his lesson from the last time he threw shade at Swift. Swifties will attack.
Check out the entire Gen Why series and other videos on Facebook and the Bustle app across Apple TV, Roku, and Amazon Fire TV.