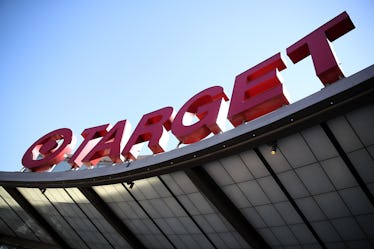 Target Is Bringing 8 Amazing Beauty Brands To Its Stores, So You Can Play All Day With Makeup
Justin Sullivan/Getty Images News/Getty Images
Imagine a place where you can pick up your La Croix and beauty products at the same time. Up until today, I didn't think such a place existed, but Target's new beauty brands are beckoning me to make a hefty purchase. Brb, if you need me, you can find me on aisle: beauty heaven.
During your many trips to Target, you might have noticed that they've been making tons of changes. Not only has the megaretailer given the beauty department a fresh makeover, but they've also expanded their brands. Now the beauty department has a more luxurious floor plan with beauty concierge desks, and they've grown their K-beauty and unisex product lineup. Now the mecca for millennials is expanding their stock again by selling brands that offer products for a broader range of skin tones.
According to a press release, Target will now sell eight new brands that come hand-selected by a team of boss babes. The brands that will be featured are cruelty-free cosmetics brand Coloured Raine, Every Hue Beauty which specializes in tinted moisturizers, vegan and cruelty-free beauty brand Hayleys, Hue Noir (which specializes in makeup for darker skin), Reina Rebelde (celebrating Latin beauty), Violet Voss Cosmetics, The Lip Bar, and Makeup Geek makeup.
Currently, Target is trying to meet the needs of their diverse clientele by selling over 1,000 brands, but they want to offer that many more products, so every skin tone, skin care need, and hair type is acknowledged. The recent acquisition means that over 150 products will be available in stores. Before most of the brands were only available online, but now these brands are dropping products in hundreds of Target stores all across the country. Come May 20, I know exactly where I'll be.
This massive overhaul will include 60 new foundation shades. I know, I gasped just reading that.
Christina Hennington, senior vice president of merchandising for essentials, beauty, pets, and wellness spoke with WWD and stated that Target isn't just stopping at this massive launch. This is step one in creating an inclusive beauty mecca for their customers.
The world is changing, especially for the Millennials and Gen Z. We carry breadth [of assortment] and that's paid off in hair care and we are confident it will in cosmetics, too.
Even though the brand carries a broad range of products, Hennington still feels like Target should consistently upgrade their offers. Which hello, like I totally agree. Having a variety of products means that the brand can cater to many different walks of life, and the store can become a one-stop shop for beauty.
We know our guests have a wide range of beauty needs and preferences, and we want to make sure Target has the best assortment for all hair types or skin tones.
By adding these new cosmetic brands — that already have faithful followings — the brand will be able to provide a brick and mortar experience for companies that primarily sell online. That's a win/win situation for all because customers will now have the ability to test out formulas and shades in store.
These eight new cosmetic brands will further our range of shade options—from foundation to lip—and are available at incredible prices. We'll continue to listen to our guests to understand what beauty products they're looking for at Target, and look forward to seeing their response to these new cosmetic brands."
If you want to take a sneak peek at some of the products Target will now carry, the eight brands are currently available for order on Target's website, and the price range spans from $10 to $25. Who says you can't grab your Halo Top and La Croix with a new lipstick on the side? Happy shopping!