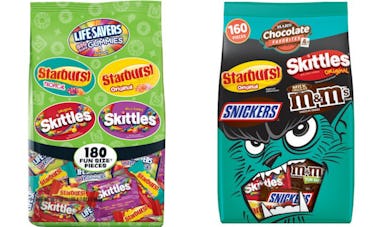 Bags Of Skittles & Starburst Are Buy One, Get One Half Off During Target's Halloween Sale
Halloween is coming up quick. If you haven't stocked up on mass amount of candy (because doesn't everyone?) or purchased your Halloween costume yet, it's time to check those items off of your to-do list. Luckily, Target's Halloween sale includes BOGO 50 percent off Halloween costumes and candy. This way, you can save big on those must-have Halloween items.
I don't know about you, but I'm counting down the days until Halloween. It's one of my favorite holidays (if I can call it that) of the year. I also happen to love Target, so this sale is the perfect marriage of everything I enjoy the most. The store has just about everything I could ever want, including tons of spooky Halloween costumes and deliciously sweet bags of candy.
The best part? It's all on sale. I'm not talking a few bucks off or anything. Target's Halloween sale is legit. If you buy one Halloween costume, you can score a second one for half off. This is perfect if you and your BFF are still in search of the perfect spooky outfit to wear on Oct. 31. One of you could dress up as an avocado and the other a pineapple. Just make sure they Venmo you their portion of the costume.
Or maybe you're one of those people (like me) who dresses their dog (or cat) up for Halloween. You and your furry friend can get a sweet deal on costumes. For example, take this unicorn cat costume from Target or this lion costume for dogs. The discount will be applied to the lowest priced item. Still, though, this is the perfect way to score a last minute deal on a Halloween costume. The buy-one-get-one half off deal is good through 11:59 p.m. on Saturday, Oct. 20, according to Target. You've got a few days to plan your costume, so get to it.
There is no Halloween with bags of candy, and Target is the place to get your sweet fix this time of year. The bullseye retailer's buy-one-get-one 50 percent off deal doesn't just apply to costumes, but bags of candy, too. Select bags of candy such as combination bags of Skittles, Starbursts, and Lifesaver Gummies, as well as bags of Hersey's All Time Greats featuring Reese's, Hershey's, Kit Kat, Almond Joy, and Reese's Pieces Halloween Snack Size are included in the promotion. There are lots of other sweet treats included in the promotion, which also expires at 11:59 p.m. on Saturday, Oct. 20. You'll just have to head to your local Target and check the shelves for yourself.
You can find these deals on costumes and candy as well as other Halloween deals (like this buy two decorative pumpkins, get one free deal), in store and at Target.com. Just remember that the prices and promotional offerings may vary from store-to-store, according to Target.
So, just how many days until Halloween? Not many. If you're as eager as I am to get dressed up and celebrate, check out this Halloween countdown clock. Just remember to hit up Target before it's too late.