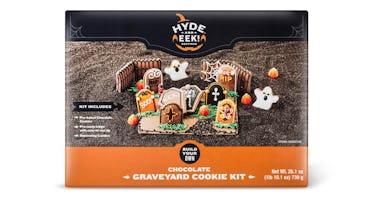 Target's Selling Graveyard-Themed Halloween Cookie Kits, So Get Ready For A Spooky Snack
The fall season is finally here, and that means Halloween is just around the corner. I've been waiting all summer to buy pumpkins and a cinnamon broom. Oh, and of course the fake spiderwebs. But if you're looking for an extra spooky (and delicious) way to decorate your space, look no further than Target's Chocolate Halloween Graveyard Cookie Kit. It's the most adorable way to add some spooky sweet vibes to your space for the upcoming Oct. 31 event.
I'm a sucker for anything that Target sells, but especially this Chocolate Halloween Graveyard Cookie Kit. The product is a part of Target's Hyde and Eek! Boutique line. The build-your-own kit includes pre-baked chocolate cookies, and pre-made black, orange, and white icing. There is one large rectangular cookie that should be used as the base of the graveyard. Additionally, the kit comes with four cookie fences, six cookie tombstones, two skeleton cookie coffins, and two cookie ghosts that you can use to decorate however you please.
Of course, you are going to need a few things to decorate your graveyard with, so here's what else comes in the box. It wouldn't be Halloween without some candy, now would it? As expected, Target's Chocolate Halloween Graveyard Cookie Kit features several different types of sweets to adorn the edible burial grounds with. In the box, you will find green, orange, and black candy balls, red skull candies, several small edible orange pumpkins, as well as green sprinkles for a totally eerie vibe, according to the kit's packaging.
I know it is tempting, but try not to take a bite until after you're done designing and assembling the chocolate cookie graveyard. You don't want any half-eaten tombstones in your cemetery made of cookies. (Or, maybe it would add to the mysteriousness of it all. I'll leave that part up to you.) When you're done, make sure you snap a pic of the end result for the 'gram. Now you have permission to snack on the spooky sweet treat.
Sure, you could probably find this project on Pinterest, but who has time for that when you can buy it all from Target in one fell swoop? The Chocolate Halloween Graveyard Cookie Kit is available for purchase online and in-stores. Right now, it's on sale for $9.49 when you buy it on the Target website. I'd say that's a score.
Target is also currently running a sale that will save you $5 off any Halloween purchase that totals $30 or more, and it applies to the Chocolate Halloween Graveyard Cookie Kit. This is your chance to stock up on all things Halloween and save a few bucks while doing so. (Seriously, Target has the best Halloween stuff.)
I'm not going to tell you what to do, but I will make the strong recommendation that you hurry up and purchase your kit from Target sooner rather than later. I know I will be. The Chocolate Halloween Graveyard Cookie Kit might just disappear off store shelves right before your eyes.