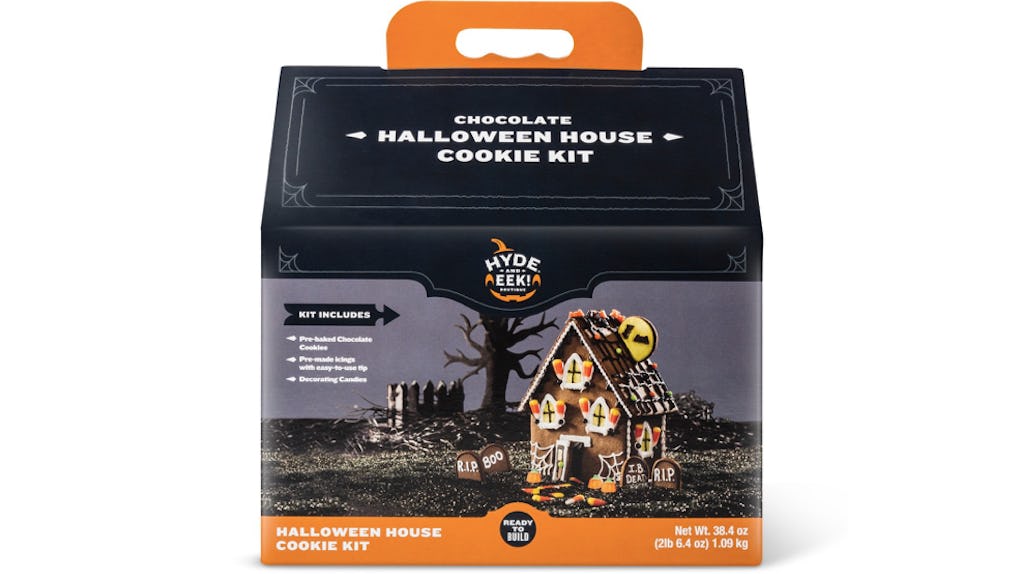 Target
Target's Halloween House Cookie Kit Gives Gingerbread Houses A Spooky Twist
When you think about gingerbread houses, you probably think about the holiday season (that's a given). However, Target is totally changing the game with the spookiest "gingerbread house" kit you've ever seen. There are no candy canes or gumdrops lining the icing foundation of the company's new edible home. Instead, Target's Halloween House Cookie Kit features candy corn and spooky sweets that'll send a shiver down your spine.
Before I tell you more about the Halloween-themed cookie house, let me make this clear: Target's Halloween House Cookie Kit doesn't include gingerbread cookies. Based off its official product name — the Hyde & Eek! Boutique Chocolate Halloween House Cookie Kit — it comes with chocolate cookies instead. The product's packaging also confirms that pre-baked chocolate cookies are included in the kit. (If you were hoping for gingerbread cookies, I'm sorry. You'll have to wait for Christmastime.)
Now, let's talk about the most important aspect of Target's Hyde & Eek! Chocolate Halloween House Cookie Kit: the candy! Of course, candy is essential to all-things "Halloween," and this cookie kit doesn't disappoint. Like I previously mentioned, there are no candy canes involved in Target's edible home. Instead, there are pumpkin-shaped candy corn pieces, bat-shaped candies, and Halloween-themed goodies that come in a variety of spooky colors. Needless to say, decorating a house with these sweets would definitely make it haunted.
Of course, you're going to need something to hold the cookie house together while you're building it (and something to stick the candy to). That's where the icing comes in. Based off the item's product page, it looks like the Chocolate Halloween House Cookie Kit comes with white and black icing that you can decorate your edible haunted house. Between icing, chocolate cookies, and Halloween-themed candy, it looks like you're about to make the spookiest "gingerbread house" ever.
If you're into the idea of celebrating Halloween with this edible cookie house, you can purchase it on Target's website for $9.99. Apparently, everything included in the kit is ready to eat — so try not to munch on the candies before you construct your Halloween home.
If you'd rather bypass the Chocolate Halloween House Cookie Kit and go straight for the candy, you should check out Target's exclusive Halloween candy selection. Right now, you can head to Target and pick up an array of spooky sweets that'll make your trick-or-treaters happy that they stopped by.
Some Halloween-themed candies that you can buy at Target include Cookies and Screeem M&M's, Edible Slime Lime Mix, Gummy Fangs, Creepy Eyeballs Bubblegum, and more. To check out additional spooky products at Target, head to the company's Hyde and Eek! Boutique page on its website.
Out of Target's entire Halloween candy selection, I do have a favorite... and it'll go perfectly with my Chocolate Halloween House Cookie Kit. I'm talking about Reese's Peanut Butter Cup Halloween Monsters Mania chocolates. The festive Reese's Cups come in Halloween-themed wrappers decorated with spooky monsters. Adding a few of these to your edible haunted house will definitely make it scarier, and I'm totally going to do it.
Then again, I might just end up eating them before getting a chance to add 'em to my cookie house. I'll see how hungry I am while I'm decorating.