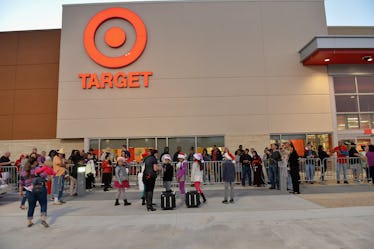 ALL Of Target's Holiday Beauty Gift Sets Will Be BOGO For Black Friday, So Get Pumped
Gustavo Caballero/Getty Images Entertainment/Getty Images
If you've been saving your holiday shopping for the biggest day of blowout discounts there is, then Target's Black Friday beauty 2018 sales are going to make you very, very happy. The savings the retailer will be offering are not only incredibly generous but they apply to products that will make for (and literally were made to be) excellent gifts. If you want to get your presents handled in one fell swoop, the bullseye is where you should land.
Target will be offering a buy one, get one 50 percent off deal on every single one of their holiday gift sets, which just dropped a few weeks ago and are seriously good. I promise, they include products that people will actually be excited to receive—they won't end up getting shoved under a bathroom sink only to be pulled out and used as a last resort. Whether you're shopping for a makeup fiend or perusing for someone who's committed to a weekly face mask ritual, Target will have a bundle that'll make them light up. Check out a selection of the some best gift sets below and remember to pick one up for the most important person in your life while you're at it. (You, duh.)
Penciled In
Three Pixie eye pencils in one cute pack! It includes BlackNoir, CopperGlow and MatteNude shades for a gorgeous dynamic finish and each product promises to glide on effortlessly and last all night.
Waves Hello
Kristin Ess might be a hairstylist to the stars, but she's also the head of her excellent eponymous hair product brand. Snag her beachy wave spray (it'll leave your hair super shiny!) and a metallic barette with this set.
Bliss Box
This box of five Bliss masks is basically a skin-improving secret weapon in disguise. No matter if you're trying to de-stress, brighten, or hydrate (or all three!), this gift set will do the trick.
Pucker Up
My 11-year-old self would have freaked to unwrap this set of 24 chapsticks and tbh, my current self probably would too. It includes 12 of Lip Smacker's homegrown shades and another 12 that were collaborations with brands like Skittles, Coca-Cola, and Starburst.
How We Roll
Because everyone needs a convenient little rollerball fragrance to stick in every purse.
Quadruple Threat
The names of these colors are Matte Lipstick Praline, Rich Red, Berry Sorbet, and Wine. I'm already sold.
Fresh & Clean
Featuring four body washes in addictively good scents, this set is fresh AF. It includes Soap & Glory's Clean On Me Creamy Moisture Shower Gel, Sugar Crush Fresh & Foamy Body Wash, Rich & Foamous Shower & Bath Body Wash, and Foam Call Shower and Bath Body Wash.
Skin Food
Whoever receives this beauty box is about to have the most hydrated skin of their life! It contains a Common Labs Vitamin C Real Gel Mask, a Make Prem Comfort Air Mask Sheet, a Package Every Day Bouncy Sheet Mask, a Package Melt Me Softly Nose Strip, and a Wish Formula Panda Eye Mask.
Lash Attack
As much as I love trying out new beauty products I always seem to go for the same mascara. Once you find one that works for you, why change it? Give someone the gift of exploration with this set of four mascaras—who knows, they might just find a new favorite.
Nailed It
They're by Essie and they're glittery and festive. Need I say more?