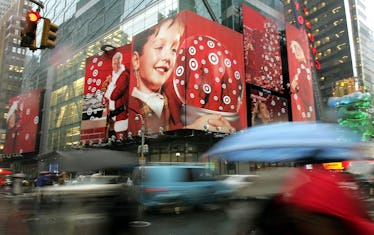 Target's Holiday Beauty Gift Sets Are All Under $15 But Are Worth Way More
Mario Tama/Getty Images News/Getty Images
Despite the fact that you probably haven't even finished munching down all of your Halloween candy yet (I'm eating peanut M&M's as I write this), it's already time to start thinking about holiday shopping. Intimidating? Usually! But thanks to Target's holiday gift sets, which are dropping in-store this Sunday, Nov. 4, the stress surrounding this year's shopping to-do list is about to get a whole lot more manageable.
Aside from including favorite products by some of Target's most-loved brands, the retailer's gift sets are especially good because of their price. They all retail for under $15, meaning getting all of your friends something they'll truly like has never been more financially possible. (You might actually get to save some of that year-end bonus this time!) From eyeliner pencil sets and festively scented bath bombs, to a body butter trio and the coolest temporary rose gold hair dye around, there really is a gift set for everyone.
Check out some of the best ones below or head to your local Target this Sunday to shop them in person. There's nothing better than watching someone get genuinely excited about opening a gift you gave them — these sets will undoubtedly elicit that response.
Roll With It
Comprising three mini rollerball fragrances (Queen Bee, Wild Child, and the limited-time only Firecracker), this gift set is for your friends who love to constantly try out new perfumes.
Goodbye, Old Chap
And hello, new chapstick! Burt's Bees is a favorite for a reason, being its ultra-hydrating properties and commitment to remaining 100 percent natural. This gift set contains three tinted shimmer chapsticks so your lips can stay moisturized while getting in on some colorful fun.
Berry Good
Dry skin and chapped lips, be gone! This gift set promises to keep skin feeling hydrated and refreshed all winter long, while infusing it with a yummy blackberry scent. It includes eos' signature spherical chapstick as well as hand and body lotion.
Deck The Halls
There are few scents I enjoy more than pine, which is why I am going to treat myself to this set of two Christmas tree-scented bath bombs. If you're looking for a stocking stuffer for your BFFs, this would make for a great one.
Line of Sight
Pixi's three best-selling eyeliner pens are the perfect gift for your makeup-obsessed friend. They're waterproof and long wearing, and feature a blendable application — what's not to love? The pack includes BlackNoir, CopperGlow and MatteNude. In other words, the perfect day-to-night toolkit.
Metal Head
I've been dying to use Kristin Ess' Temporary Rose Gold Tint ever since I saw how rad it looked on Lucy Hale. It gives hair a really cool pinkish tint without looking too intense or fantasy land-ish and washes out in a matter of days. The set also includes three celestial bobby pins, which would twinkle beautifully among rose-gold locks!
Green Thumb
I've had the same brush set for more than six years — that needs to change ASAP! This one is PETA-certified, 100 percent cruelty-free and vegan, is made from recycled materials, and boasts 100 percent tree-free packaging. Sold!