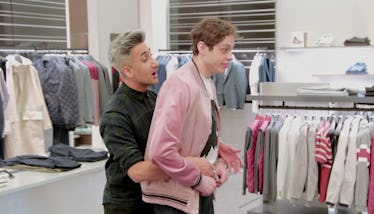 Tan France Just Said He's Not Styling Pete Davidson For His Wedding, So I'm Devastated
YouTube
Even in Hollywood, not all dreams come true. For example, for a brief beautiful moment, fans thought Tan France of the hit series Queer Eye might be styling Pete Davidson for his wedding with Ariana Grande. Alas, it's not true. While the two did go shopping together, France confirmed he is not the stylist pinged for the big day — at least not as of now. Tan France's response to rumors he's styling Pete Davidson prove this rumor was simply wishful thinking and media hype. Womp, womp.
In March 2018, France took Davidson out for a super fun shopping spree to help the Saturday Night Live star step up his fashion game. Honestly, it's a really fun video. The two pal around in the men's department and talk everything from Staten Island fashion to the drama with boxer shorts and their low-hanging, uh, eggplant emojis. Both France and Davidson are seriously charming AF. Since the two clearly hit it off, it would make sense if Davidson asked the approachable fashion expert to help him on his wedding day. My favorite part of the video is when France asks Davidson, "When you get dressed in the morning and you walk out the house, do you think, 'I look sexy?'" Davidson's response? "Never."
If you've got four minutes, enjoy.
ET eventually caught up with France and asked him about the wedding stylist rumors. "Don't believe anything you read on the internet," he said. "I just went on a shopping trip with him." Obviously, if Davidson asked for his advice France would "absolutely say yes!"
France also weighed in on what he thinks Grande should do for her bridal look. To begin, he says he is loving her bleached hair and would never ask her to nix the ponytail just because it's her wedding day. "I love that. Her hair is long. Why not go for that look [for the wedding?]. It's her look."
I mean, when the man's right, he's right. It really is her look. While it would be totally understandable if she opted for something different to say "I Do," I can't help but admit I'd be slightly disappointed. There are schools of thought out there saying one should try to be their most authentic self on their wedding day considering that's the version of themselves their partner fell in love with anyway. For Ariana, her most authentic self definitely rocks a high pony.
For now, fans are waiting for any information about the wedding day. Davidson remains on Instagram-hiatus, though Grande still posts videos and pictures of him from time to time. In a recent video, Davidson rattles off his top five favorite songs on her new album, Sweetener. Weirdly, enough his song "Pete" comes in at number two. His list goes: "God Is A Woman" (because that song "f*cks hard"), "Pete", "R.E.M.", "Sweetener", and "Better Off."
If they don't play "Pete" while she walks down the aisle, then honestly what's the point?
Check out the entire Gen Why series and other videos on Facebook and the Bustle app across Apple TV, Roku, and Amazon Fire TV.