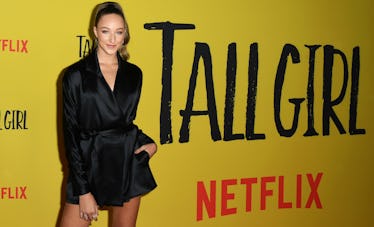 Stop Asking 'Tall Girl' Star Ava Michelle If She Plays Basketball
Jon Kopaloff/Getty Images
Netflix's new teen rom-com Tall Girl was a very personal project for Ava Michelle, and it should be pretty obvious why. Like her character Jodi, Michelle towers over most of her peers at a height of 6 feet and one-and-a-half inches. Also like Jodi, Michelle has been bullied for her height — including that time she was cut from the Dance Moms team on national television. But Tall Girl's Ava Michelle embraces her height, and she hopes the new movie will encourage others to embrace their differences as well.
Tall Girl premiered on Netflix on Sept. 13, and right off the bat, the movie depicts the various ways in which Jodi feels ostracized due to being taller than her classmates. Passing students teasingly ask her "How's the weather up there?" while she mourns her men's size 13 sneakers and hits her head on doors when entering rooms. Michelle says all of these moments were hugely relatable to her own experiences, especially the issue with doors. "That's so realistic because it happens all the time," she reveals. "Almost every time I stepped out of my trailer [on set], I hit my head. It's a real thing. I walk into trees; I walk into signs."
But the potential hazards of being taller than average are not only physical. Prior to landing Tall Girl, Michelle was best known for starring on the Lifetime reality series Dance Moms, during which her height got in the way of her goals as a dancer. In a 2014 episode, dance coach Abby Lee Miller harshly cut Ava from her team because she was too tall.
"I think it was one of the first times that I realized that my height could get in the way of what I wanted to do," Michelle says, reflecting on why that Dance Moms scene was so difficult for her. "Because before, I was never told I'm too tall for things and honestly, I didn't even think that was a thing ... And it was really difficult at a young age because it wasn't anything I could practice more or I could work on; it was just something I was stuck with and I couldn't do anything about it. So to me it was really unfair and really difficult, and it still is."
Similar to her struggles during her dance days, Michelle's height has also been somewhat of an obstacle in her acting career, but her earlier experiences have helped her deal with the rejection. "It's really difficult to go after roles that I'm really passionate about and then get really far and be told no because of my height," she says. "The Dance Moms thing was really difficult, but I'm also thankful for it because it made me really strong."
These days, Michelle's mentality is to keep doing what she loves no matter what other people say. After all, it was because of her height that she landed her first movie role with Tall Girl.
"Do what you love; don't do what other people tell you to do, you know what I mean? I think it's so crazy that so many people my entire life were like, 'I hope you're not wasting your height in not playing basketball or volleyball or this or that,'" Michelle says. "I think it's so crazy that height is associated with a career choice, and people are very close-minded in that way, so I think my big advice in life is: Do what you love, love what you do, and don't let anyone tell you you can't, because you can."
Clearly, what Michelle loves to do is act, not play basketball or volleyball. And even though her first movie role is so closely tied to her height, Michelle is not concerned about being typecast as the "tall girl" in her future roles.
"Honestly, I don't really worry about that. I'm so lucky to be able to relate to something for my first role, but I think there are so many other places that I could go with it," she says. "I mean, I am excited to be in a role that won't necessarily address [my height] and will just show my acting and what I do just on its own ... I mean, there are so many tall actresses — Charlize Theron, Nicole Kidman, Blake Lively — the tall women who have paved the way, so I'm not really worried about that. But also, I like being the tall girl, It's fun. [This movie] has taught me to embrace it more."
Tall Girl is currently streaming on Netflix.