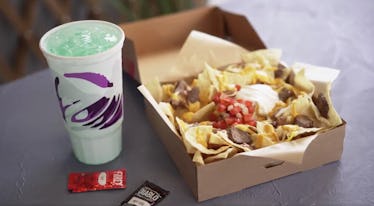 Taco Bell Is Testing Buffalo Chicken Nachos As Part Of A Mouthwatering $5 Box
Living más is about to get even more drool-worthy, thanks to everyone's favorite Tex-Mex chain. Taco Bell diehards credit the fast food chain for rolling out delicious new creations on the regular, so it should come as no surprise that the chain's test kitchen is helping you close out the year with some crave-worthy new goodies. Taco Bell's Buffalo Chicken Nachos and Beefy Potato Flatbread are the latest treats on the testing block, and TBH, they both sound like a fiesta for your tastebuds.
Starting on Dec. 27, T-Bell is testing out three new concoctions that could be making their way to permanent menus in the very near future. Pending customer reaction, of course. According to USA Today, the Beefy Potato Flatbread is coming to the Cincinnati market, and the $1 offering sounds like it's a lot more delicious than the name implies. Per the publication, you can expect a warm flatbread out of the oven folded in half and filled to the brim with seasoned potato chunks and seasoned ground beef as well as a melty blend of nacho cheese sauce and cheddar cheese. Getting the treat by itself for just a buck is a steal, but the flatbread is reportedly also available in a $5 Box that comes with a Doritos Locos Taco, a Crunchy Taco, Cinnamon Twists, and a medium drink of your choice if you're feeling extra hungry.
A big fan of spicy food? Taco Bell is officially upping the heat with the spicy $5 Cheesy Jalapeño Nachos Box, which will be rolled out at the same time in Milwaukie. The box starts with a bed of crispy nacho chips, which are layered with seasoned ground beef, refried beans, gooey nacho cheese sauce, and a three-cheese blend (we're in Milwaukie, after all). Dollops of sour cream, pico de gallo, jalapeño sauce, more jalapeños, and a medium-sized drink finish off the creation. This mouthwatering box looks like something you'll definitely want to split with the crew.
Speaking of nachos, Taco Bell's Charlotte, North Carolina offering might be the test item that I'm most excited about. I saved the very best for last, because a Buffalo Chicken Nachos Box is about to have a trial run. The $5 nachos box, which includes a medium drink, will be topped with refried beans, melted nacho cheese sauce, a three-cheese blend, shredded chicken, buffalo sauce, sour cream, pico de gallo, and guacamole.
As T-Bell devotees well know, this is a huge deal for the Tex-Mex chain, which currently doesn't have anything with buffalo chicken on its menu. My mind is running wild with all the possibilities should Taco Bell successfully pull this one off and introduce buffalo chicken to their current lineup of goodies. Can you imagine how amazing a Shredded Buffalo Chicken Mini Quesadilla would taste? Or a Naked Chicken Chalupa with buffalo sauce? TBH, I can't handle how delicious all of that sounds, and it's well worth a visit to Charlotte if you don't already live there.
Again, these three mouthwatering creations are all in testing stages for the time being, but I have a gut feeling that they'll all be making their way to national menus very soon. In the meantime, road trip, anyone?