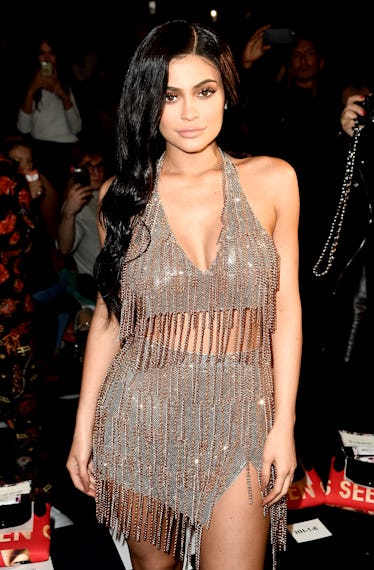 This Grammys Performance Could Be A Major Clue Kylie Jenner Is Actually Pregnant
Nicholas Hunt/Getty Images Entertainment/Getty Images
Let's be real: 2017 was totally the year of SZA. While the millennial R&B performer gained national attention following the release of her acclaimed album Ctrl, it's clear her time in the spotlight is nowhere near over. However, in classic social media fashion, Twitter has a few theories that SZA's Grammys performance could mean Kylie Jenner is pregnant. Oh, Twitter.
Before you click away because of the complete absurdity at this idea, just hear me out. SZA performed her track "Broken Clocks" as her Grammy performance instead of opting for more popular tracks such as "Love Galore," which features rapper Travis Scott. Therefore, Twitter has decided that Scott's absence from the Grammys this year might mean he's spending some quality time with his lady Kylie Jenner before her rumored delivery.
The duo performed their hit song on The Tonight Show on July 20, 2017, to rave reviews. So, one would think the pair would want to show off on music's biggest night. Even though Travis Scott has had his own issues with the Grammy Awards, fans were still convinced the superstar rapper would make an appearance alongside SZA in her Grammy performance. So when Scott was nowhere to be found, Twitter of course had to sip its tea while concocting the classic Kylie Jenner pregnancy conspiracy theories.
Here's SZA's performance so you can decide for yourself.
And here are some of Twitter's best reactions in case you need to be convinced.
It's rumored that Kylie Jenner will deliver the mystery baby in March, but since there are so many theories surrounding this issue, who can really be sure? As the proposed due date approaches, it's not surprising that the possibly soon-to-be-parents might be trying to keep it pretty low-key before the special day. Jenner's absence from the Kardashian Christmas card sparked an uproar on Twitter a while back, so we're definitely overdue for another Jenner pregnancy theory.
But it's not all that's interesting about SZA's Grammys appearance. SZA's album Ctrl, which was released on June 9, 2017, received widespread acclaim from music critics across numerous publications, which secured her five Grammy nominations including Best New Artist, Best R&B Performance, Best R&B Song, Best Rap/Sung Performance, and Best Urban Contemporary Album. Her debut was long-awaited by the public, and the songstress certainly did not disappoint. Before the album release, SZA dropped chart-topping singles including "Love Galore" and "The Weekend." In fact, the two singles in particular earned her two of the five nominations.
Killing it.
When the Grammys announced the 2018 nominations on Nov. 28, 2017, the R&B performer immediately turned to Instagram to express her joy for the multiple nods. In her post, she talked about her humble beginnings sleeping on friends' couches and all the hardships she experienced up until this point.
She wrote,
It all just feels strange somehow BUT IM SO OVERWHELMINGLY GRATEFUL FOR THIS STRANGENESS!! . I'm so in awe of Gods plan.. I just wanna live up to it. Thank you for listening to me.. thank you for understanding me.. thank u for bonding w my thoughts just the way they were. INFINITE GRATITUDE to the Recording Academy for this INCREDIBLE honor. I️ can't even believe I've been considered.
From her trademark freckles to her one of a kind voice, SZA's leap into stardom was predetermined from the jump. However, it took a while for the underground artist to draw attention from a broader public. While she used Soundcloud as her outlet to release music, she's been inactive on the song sharing website for four years.
Though SZA might not have received the well-deserved attention until recently, the singer-songwriter has been actively pursuing music for years. On Oct. 29, 2012, she self-released her seven-track EP See.SZA.Run and followed up the indie success by releasing her S on April 10, 2013. Before Ctrl, the last project she dropped was her 2014 EP Z.
While the R&B vocalist was well known within smaller music communities, on Aug. 15, 2013, SZA signed to rap label Top Dawg Entertainment (TDE) as the label's only female musician. The label hosts other impressive artists including Kendrick Lamar, Isaiah Rashad, Schoolboy Q, Jay Rock, and Ab-Soul.
In an interview with Vulture, SZA discussed the constant delays facing the release of Ctrl and her frustration with constantly trying to perfect the album's sound.
She said,
When you're making the album, it's about getting all these things ready and prepared to turn in. You expect them to maybe get a little bit better, or get settled and be refined and polished. Like, you want to change them to make them better before it's all said and done. That's the dream, but the process is different. There was so much of me thinking, 'Is it over? Should I try some more?'
In fact, SZA told The Guardian that the reason Ctrl finally saw a release date was due to pressures from the label, claiming they "cut [her] off." She said,
They just took my hard drive from me. That was all. I just kept f*cking everything up. I just kept moving sh*t around. I was choosing from 150, 200 songs, so I'm just like, who knows what's good any more?
Well those multiple Grammy noms definitely prove that second guessing yourself doesn't always pay off. Congrats SZA!