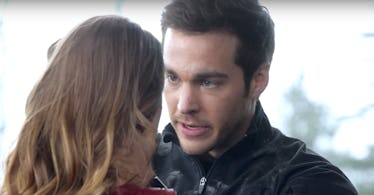 'Supergirl' Star's Mental Health Campaign "I Don't Mind" Is So Important To Increase Awareness
This week marks Mental Illness Awareness Week, which aims to increase awareness about mental illness, in addition to the unfair stigma surrounding it. The National Alliance on Mental Illness (NAMI) was a key player in making this week become a reality in 1990, and 17 years later, it's still extremely important. Actor Chris Wood, who plays Mon-El on The CW's Supergirl, kicked off his mental health campaign, "I Don't Mind" this week to put a stop to the stigma around mental illnesses.
During an Instagram Live broadcast, Wood talked about the campaign he's been working on. Coming from a personal place, Wood lost his father as a result of an untreated mental illness. And with this campaign, it's all about trying to get people the help they need before it's too late by taking away the negative connotation behind having a mental health issue.
Wood stated during his live stream,
It's a campaign where our goal is to essentially to fight the shame and fear that surrounds mental illness and bring hope to people that need it. And we're trying to do that with a common phrase, which is 'I don't mind.' Because I don't mind sharing how I actually feel and I don't mind, you know, admitting to you that I need help, because I get sad sometimes and I have a tendency to be obsessive and a bit ADD.
Seeking out therapy and counting on friends and family for support should be something we support in this society, and Wood is 100 percent behind that. Shaking off that fear of admitting you're hurting is the first step. Wood said,
We need to start speaking up and sharing how we're really feeling because if we can do that, I think as a group, we can shift the way that the world views mental health.
A big part of the I Don't Mind campaign is the two-week shirt sale on the site, powered by Represent. There are three different colors of shirts being sold and one dad hat. All of the earnings will be given to NAMI.
A ton of Wood's co-stars have come out in support, including Grant Gustin (The Flash), Jeremy Jordan, and David Harewood, to name a few. A bigger partner on the campaign is Melissa Benoist, Supergirl herself. Benoist popped up (literally) in the live stream to the surprise of many fans. Benoist also opened up about her struggles with depression since she was 13 years old. She revealed,
There's always a way through it and there's always someone ready and willing to listen. You just have to know that you don't have to feel ashamed.
And that's the most important part of this whole thing, isn't it? To be able to talk about your hardships with mental illness in a way that 1. won't make you feel embarrassed or less than what you're worth, and 2. gets you the help you need. And it's insane that we are made to feel number one's effects so hard.
I struggled through the better part of high school with very deep depression to the knowledge of virtually no one. The reason that no one knew was because I didn't feel safe talking about it. I missed so much school my sophomore year, quit a ton of activities that I had loved just a year before, and developed harmful habits in regards to my health and my friendships. I still have recurring episodes of just utter despair to this day. And I didn't get help specifically for my depression and anxiety because I was made to feel like it was all in my head — not by anyone in particular, but by the way it's dealt with in our society.
I didn't come out about it to anyone until last year, even to my family. And even then it wasn't because I really wanted to. It wasn't until Chris Wood's words reached me. I have been following his mental health advocacy for a bit, and to hear him speak on Sunday, I was finally able to wrap my head around the fact that yeah, I have an issue that I can't control, but I don't mind letting people know now, because it's not something to be ashamed of.
This year, we've seen a lot of celebs really pushing for the same thing regarding mental health. After the 2017 VMAs, calls to the National Suicide Prevention Lifeline increased by 50 percent. This was attributed not only to the performance of "1-800-273-8255" by Logic, Alessia Cara, and Khalid, but also by Kesha's speech:
It has been said that if you knew who walked beside you, you could never experience fear or doubt again.
"You are not alone" was on shirts worn by those on stage, including suicide survivors and those who have lost loved ones to suicide. Lady Gaga has also helped erase mental health stigmas by even just admitting she has PTSD last year and starting the conversation.
These all may be celebrities, but the impact they have on those with illnesses we're told to brush off or slide under the rug have sincere and great importance. I wish I had this type of push when I was 15, and to see teens online connect with I Don't Mind fills me with so much joy.
Currently, one in five adults in America have a mental illness. As Wood points out, this means it affects us all in some shape or form:
I truly believe healing is a byproduct of hope and honesty. Honesty with ourselves and with each other and having hope that you're actually going to be OK, because you are and you're not alone.