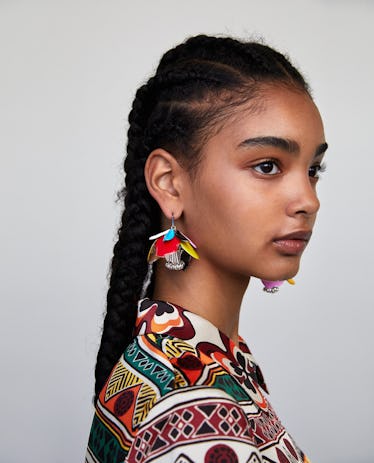 The Summer Earrings That Will Singlehandedly Turn Any Outfit Into A Knockout Look
When it comes to jewelry, I stick to a pretty consistent aesthetic: geometric and/or architectural earrings in gold and silver. Along with the occasional choker, that's about all I'll wear. At least, it has been up until now, but seeing as summer 2018 earring trends are all about color, texture, and oversized statement charms, my accessories tendencies might need a bright refresh.
As Lisa Aiken, Net-a-Porter's fashion director, explained to Refinery 29, "The trend for oversized earrings has been around for a few seasons now, but with ready-to-wear turning its attention to natural fabrics and a more muted palette, it makes sense that we are shifting from glam crystals to wood and resin in the accessory world." Indeed, if you look to the spring 2018 runways of Marc Jacobs, Carolina Herrera, Brandon Maxwell, Prada, and more, statement earrings took center stage jewelry-wise. Kitschy charms, bouquets of beads, fruit motifs, geometric shapes, and rainbow gemstones dangled from the ears of models and were so sizable, so outrageous that they were impossible to miss.
Take a note from the catwalk and amp up your summer look by investing in a few pairs of earrings that are bound to turn heads. Whether you prefer vivid blooms or sparkling crystals, there's an option you're going to want to lend your earlobe to.
Hot Tropics
There's a lot going on here but somehow it all works together. From the crinkled metal charm and sparkly gemstone details to the asymmetrical designs and bright flower motifs, these earrings pack quite the punch.
Across the Frond
These make me think of vacation, which is reason enough to invest in them. I also love the combination of gold and green and anything with a drop design.
Best Buds
I nearly bought these earrings last weekend but opted for a pair of oversized gold hoops instead. (Shocker.) To be honest, I'm regretting my choice. These little flowers are another asymmetrical pair and I love their rainbow petals and tiny silver stigmas (the little guys poking out from the center of the flower). They'd make any outfit 100 times more interesting.
Soft Spots
Thanks to their all-ivory color palette, these earrings will go with pretty much anything. Their design, however, is anything but subtle. The fringy teardrop loops are studded with tiny little pom poms — so cute!
Stoned
These remind me of earrings my mom used to wear when I was little, and I was obsessed with their turquoise stones. They'd look awesome paired with a Canadian tuxedo or with jeans and pretty much any white shirt. At $8, their price is hard to beat.
Juicy Gossip
I look at these and literally want to take a bit out of them. They look like fruit gummy candy! Super playful and bright, they'd pair well with an equally busy dress, for a head-to-toe over-the-top look.
Golden Hour
For when I need my metallic fix but also want to be on trend. These earrings remind me of mobiles by artist Alexander Calder and I am all about it. Their geometric design and pops of sunny yellow render them mini masterpieces.
Dripping in Gold
If you've got a more elegant affair coming up (maybe a wedding or fancy birthday party) these gold-flecked earrings might be for you. Featuring a beautiful white flower with strands of twinkling gold charms hanging off of it, they're certainly statement earrings, but delicate ones.
Round and Round
Thanks to their wooden, beaded, and threaded textures, these earrings have a handcraft feeling about them. Their earthy color palette would pair excellent with anything featuring a leafy motif.