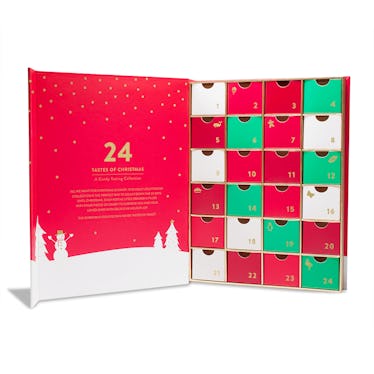 Savor The Sweetest Countdown To Christmas With Sugarfina's New Candy Advent Calendar
SUGARFINA
Another day, another festive advent calendar that promises to make your countdown to Christmas the merriest one yet. The candy makers extraordinaire at Sugarfina are now jumping on the bandwagon with a festive, confection-filled box of their own which promises to treat your sweet tooth to 24 magical days of holiday tastings. Let the countdown begin, because Sugarfina's 24 Tastes Of Christmas Advent Calendar is the sweet surprise that's sure to delight every candy lover on your list.
According to Sugarfina's website, the purveyors of all things candy are already curating some of their most popular bonbons for holiday 2018 for just $38. Once ordered, one of the company's festive red calendars will arrive on your doorstep to treat your taste buds with 24 different days of sugary surprises. During your countdown to Christmas, you can open one of the pink, red, white, or green drawers each day to discover four individual pieces of candy waiting for you from Sugarfina's specialty holiday candy tasting collection. While you won't know what the treat du jour is until you open up the box, Sugarfina details on its website what favorite confections will be included, and they sound completely delicious.
Fuji Apple Caramels
Red Noses
Royal Roses
Watermelon Slices
Sugar Lips
Pink Flamingos
Dark Chocolate Sea Salt Caramels
Sparkle Pops
Pumpkin Pie Caramels
S'Mores
Gingerbread Cookie Bites
Cinnamon Crunchies
Party Penguins
Mini Cola Cuties
Gingerbread Men
Parisian Pineapples
Apple Frogs
Baby Butterflies
Birthday Cake Caramels
Sugar Cookies
Heavenly Sours
Ice Cream Cones
Fruity Loops
Baby Whales
Unless you're a Sugarfina expert, you might not know what to expect from selections like "Party Penguins," "Baby Butterflies," and "Baby Whales," so I'd take a look at the confectionary's website to get an idea of what bites will be gracing your taste buds. Or, you can leave it up chance and just go with it. I have no idea what "Red Noses" are or what they might even taste like, but I can't wait to find out when I open up the corresponding drawer. One thing's for certain: Whatever surprise confection is waiting for you, you can count on getting your sugar cravings handled in the most delicious way possible.
"Whether you use it as a traditional Advent calendar with loved ones or break it out at a holiday party for a fun activity, there's a sprinkling of sugar for everyone inside," the website reads.
Unfortunately, at the time of publication, Sugarfina's "24 Tastes of Christmas" Advent Calendar was out of stock on Sugarfina's and Neiman Marcus's website, but a representative confirmed to Elite Daily that they will be back online in 1-2 weeks and for sale at retail locations starting on Nov. 1, so you won't miss a day. You can even register with your email so that you get a message alerting you right when it's back in stock.
In the meantime, I'd suggest heading over to Neiman Marcus's website to feast your eyes on the most extra wall of Sugarfina candy that you can get installed in your home this holiday season. An item on Neiman Marcus's annual "Fantasy Gift" list, the 10 feet by 12 feet creation is basically Willy Wonka's dream on a wall, and Sugarfina promises to keep it continually stocked with their best confections for three years after purchase, as well as to send you and three friends on an all-expenses paid trip to Italy. All for a cool $325,000, if you happen to have that laying around. Personally, I think I'll be waiting until Nov. 1 for Sugarfina's candy advent calendar to make its way back into stock. The holidays can't come soon enough.