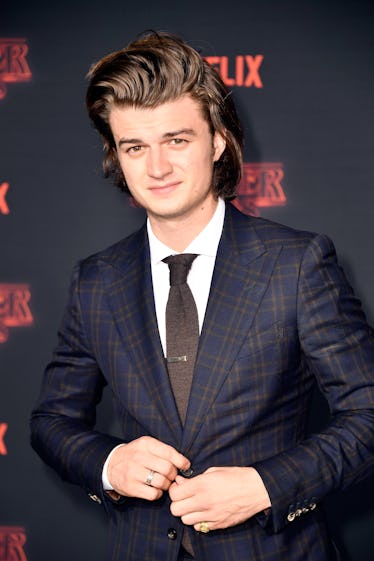 You Won't Believe The Truth Behind 'Stranger Things' Steve Harrington's Mesmerizing Hair
Frazer Harrison/Getty Images Entertainment/Getty Images
After the season finale of Stranger Things last year, I was left with so many questions that every time an article popped up, I couldn't help but click. Where was El? What are they putting in Stranger Things Steve's hair? Would there ever be justice for Barb? And I mean, I don't want to spoil anything for those that didn't get to binge watch season 2 yet, but I finally have an answer to what they are putting in Steve Harrington's (aka Joe Keery's) hair to make it so luscious.
If there was a competition for best hair on the hit Netflix show, Keery would be in first place with his unbelievably fluffy mop. When I heard Keery's hairstylist Sarah Hindsgaul spilled the beans on his routine, I immediately dropped everything and did some reconnaissance.
Last season, Keery's character Steve Harrington was nothing more than Nancy Wheeler's obnoxious, but irresistibly cute boyfriend. He was the perfect example of the quintessential popular boy that I probably would have never talked to in high school. But this season, Harrington and his hair played a much more meaningful role in the show, and in my heart.
Refinery29 reports that after trying over 15 products to smooth down Keery's hair, hairstylist Hindsgaul used Kevin Murphy Night Rider ($43, kevinmurphy.com), a dry wax, to get the perfect heartthrob swoosh. While last season saw Keery's hair appearing polished, this season it was all about giving him a windblown, rock star look.
I, along with every other Stranger Things fan with a pulse, wondered if if any extensions were added to create the new "Dad Steve." I mean, how does it reach those epic heights? How does it crest just right? Apparently, it's all the work of genetics and great styling.
Hindsgaul explained that because Keery's hair is so thick, she blow dries it with a round brush and applies Rene Furterer Vegetal Mousse ($27, renefurterer.com) before laying Kevin Murphy Night Rider Wax ($43, kevinmurphy.com) on the sides, and working in Oribe Texture Spray ($46, oribe.com) for grit. R + Co Hairspray ($29, randco.com) provides the final, lasting touch.
Now again if you're sans bae like I am, who says you need a guy to enjoy the effects of these products! After some investigating, I've found plenty of women who love the Rene Furterer Vegetal Mousse because it's great for battling humidity and smells like a dream. Scented with lemon, grapefruit, and Lily of the Valley notes, it provides that fresh-from-taking-a-hike-through-the-woods vibe, but without the dirt and sweat. Plus, you'll have the personal knowledge that you hair smells like Steve Harrington's.
When dreaming up Keery's season 2 style, '80s icons Brad Pitt and George Clooney came into play, as well as Keery himself.
"Joe loves talking about hair — we could talk about his hair for hours! [Laughs] We started ping-ponging crazy ideas back and forth early on. Joe said, 'You need to top what we did last year!' [Laughs] I said, 'I don't know if we can, I think we had a hole-in-one, so it's going to be tricky!' I started looking at photos and watching A-Ha videos to prep — I am really in love with "Take On Me" — and we decided that it needs to be longer in back, in that direction."
I would like to note that Harrington's character development this season was one of my favorites. But that hair? It was beyond my wildest, biggest dreams. Steve Harrington is officially giving Jake from Sixteen Candles a run for his money in making real life millennials go wild for fictional '80s characters.