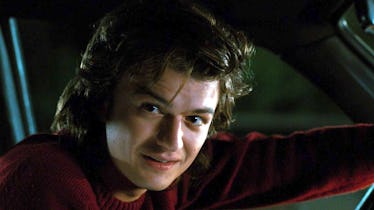 'Stranger Things' Fans Have The Perfect Idea For Steve In Season 3
Netflix
The second season of Stranger Things only just started streaming on Netflix a couple days ago, but the fans have already torn through it and discovered the unexpected plot twist of the whole series: Steve Harrington is actually... the best? The jerky boyfriend who really just seemed to be there to stand in the way of Nancy and Jonathan being together in Season 1 evolved into the clear fan-favorite MVP in Season 2 after discovering his babysitting skills. So what's going to happen to Steve in Stranger Things Season 3? Well, some fans are already pitching their dream scenario for the bat-wielding babysitter when the show returns for another season.
The worrying element that viewers are starting to realize is that Steve, Jonathan, and Nancy are all probably high school seniors at this point, which means it's plausible that any of them leave Hawkins for college next season. Obviously, nobody wants to see Steve go after his adorably sweet redemption arc as Dustin's mentor and protector in Season 2, so one Redditor proposed an idea that would keep Steve in Hawkins and also seems to fit in perfectly with his character development. And it could also give fans another really exciting team-up prospect to boot!
The idea is that Steve goes on to train to become a police officer in Hawkins. It makes sense after we've seen how good he is at standing up for others and protecting them throughout Season 2 (even though he still winds up getting beat up by Billy).
The cherry on top of this dream scenario is that we might get to see police chief Jim Hopper train Steve throughout a new season, which is definitely a duo that would excite fans of the show.
And judging from an Instagram he recently posted, David Harbour is also ready for some more Hopper/Steve scenes in the upcoming season. Harbour posted a side-by-side photo of Steve's actor Joe Keery and himself at Keery's age, pointing out how startlingly similar they look. I mean, just look at all the flowing hair going on in this photo!
Obviously, nobody knows anything about Season 3 at this point, but Steve's arc in the second season does seem to be setting him up for a larger role in the series as a whole. Now that Jonathan and Nancy have finally realized they belong together and new jerk Billy has overtaken his popularity at school, Steve was able to leave his jerky persona behind and reveal a more sweet and caring side to himself in the second half of Season 2. He takes Dustin under his wing and not only helps him try to destroy all the demodogs running amok in town, but also reveals his secret haircare secret and dating tips to his new little buddy.
And not only is Steve starting to stick up for the little guy a lot more, but we also see so much more of his bravery this time around. He was willing to sacrifice himself to help lure the demodogs into Dustin's trap in the junkyard, and he also defends Lucas from the enraged Billy at the very end... and winds up getting clobbered for it. These moments could have definitely been the groundwork for Steve to enter a future in law enforcement.
But for right now, many viewers are still working their way through Season 2 and only just realizing how great Steve becomes, so let's just revel in that while it is still fresh. After all, if those last few seconds of the Season 2 finale have anything to say about the future, we're going to be worrying about a lot more trouble coming to Hawkins soon enough.