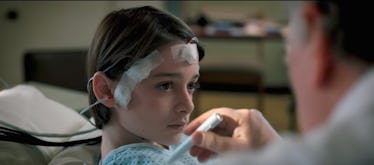 'Stranger Things' Season 3 Spoilers Show Things Are Looking Up For Poor Will Byers
Netflix
Will Byers has had a rough couple years, to say the least. The character could barely catch a break, but Stranger Things Season 3 spoilers reveal that he'll finally have some time off from the Upside Down's grasp and the subsequent trauma that followed. We spent Season 2 watching the so-called "zombie boy" go through the ringer — he was literally overtaken by a shadow monster after his terrifying trip to an alternate dimension in the first season. Not cool. But come Season 3, things should get a bit better for the young Hawkins teen. Maybe he'll even get to abandon that bowl cut? OK, I won't push it...
"We're going to give Will a break," Executive Producer Shawn Levy recently revealed to Glamour. "We're not going to put Will through hell for a third season in a row. He'll be dealing with stuff, but he won't be at rock bottom the way we forced the amazing Noah Schnapp to play."
Phew. I'm not sure I can handle any more of Will's exhausting convulsive breakdowns and I definitely don't think his mom Joyce (Winona Ryder) can take the parenting pain that comes with it all. Surely, she'll also get some respite from defending her "boy" and yelling "Will!" repeatedly when the next installment rolls around.
While I don't anticipate next season of Stranger Things to be all fairy-tales and first kisses, it's nice to know that at least Will won't have it so rough. As promised, last season was dark. Things wrapped up on a hopeful-ish note when the kids danced blissfully in the gym of their school dance in the final scenes. Even post-possession Will got a partner to share the moment with. I'm guessing that teenage oblivion will be just a temporary distraction from the lingering evils that hover over Hawkins, Indiana. You may recall a certain lurking Shadow Monster...
"They've shut the door on the Mind Flayer, but not only is it still there in the Upside Down, it's very much aware of the kids, and particularly Eleven," Ross Duffer teased to The Hollywood Reporter back in October. "It had not encountered her and her powers until that final episode. Now, it knows that she's out there."
Ah, trouble is always brewing when it comes to this town. But according to Levy's recent remarks, there's a new threat on the horizon. "You might assume that but you would probably end up being wrong," he responded, when asked about which characters would feel the wrath of the Mind Flayer. "We're dealing with forces of evil that are new." You don't say...
Shawn Levy also hinted at more "Steve/Dustin action" which warms my heart and already gives me major hair envy. But what about other beloved characters? David Harbour, aka local police chief extraordinaire Jim Hopper, recently spoke about his hopes for next season and I couldn't agree more:
I'd love to work with Gaten. I want to get into the backstory of Hopper more. When Eleven goes into the basement, she sees a bunch of boxes, one of which says 'Hawkins Lab.' 'Dad.' 'Vietnam.' 'New York.' There's a lot of story we can get into around Hopper's time as a cop in New York, Hopper's time in Vietnam. I would love to see more of that, but we have a ton of great characters, so I don't know how much they'll be able to do.
If Eleven can get a standalone episode, I don't see why Hopper doesn't deserve his own flashback capsule to fill in some identity blanks.
Stranger Things Season 3 hasn't started filming as of yet, but storylines have reportedly already been written out. At least we can sleep tight knowing that some of the pressure is off Will this time. Poor kid deserves a vacation.