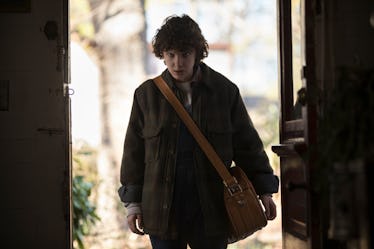 We Now Know How Many Episodes Are In 'Stranger Things' Season 3 & It's Less Than "Eleven"
When Stranger Things was originally a hit back in 2016, Netflix was still insta-greenlighting projects season after season without much concern for how much money they were spending. This meant the production could quickly turn around and start filming Season 2 before the kids aged up much further, allowing a small time jump of one year between episode batches. Season 3 of Stranger Things hasn't been so lucky. It was one of the first to be caught in Netflix's renewal pause. But now it has been given the go-ahead, Stranger Things Season 3 episodes have been written, and the show is finally going to be ready to film "soon."
According to TVLine, Season 3 won't begin shooting until April. That's a delay of a good six months in comparison to when Season 2 started filming. It's also a gap in which all of our kid actors have had time to be hit with the puberty stick.
Now, fans shouldn't expect anything quite so drastic as say, Bran Stark from Game of Thrones, where actor Isaac Hempstead Wright's transformation from Season 4 to Season 6 was not only a good foot in height, but also a voice and facial change. After all, he was off the show for a full year, which helped up the shock factor of his transformation. But kids mature suddenly in spurts at this age, and the showrunners are *very* aware the world of the show has to keep up with their maturing in order for it to stay believable.
To that end, the plan is for another time jump between seasons, but not too large. Just maybe a few more months than last time, as Matt Duffer told The Hollywood Reporter.
Even if we wanted to hop into the action faster, we couldn't. Our kids are aging. We can only write and produce the show so fast. They're going to be almost a year older by the time we start shooting Season 3… [so] it forces you to do a time jump.
We fans can assume the coming season will be set at some point during the 1985-86 school year, but maybe more like Christmas/New Years than Halloween. What else do we know about the coming series? Will we get the episode count upped once again? The first season was eight installments, the second was nine. Logic dictates than Season 3 will be ten, right?
Wrong. It turns out the Duffers are backtracking slightly, and Season 3 will return to an eight-hour season. TVLine says:
Netflix's '80s phenom will produce eight episodes in Season 3, down one installment compared to Season 2's nine-episode haul but in line with Season 1's total. Production is slated to begin in mid April.
The show has not revealed any new cast slated for the coming season, which makes sense. Season 2's guest stars weren't revealed until after filming began. However, it has been confirmed all our old favorites are signed on to return, including some of our Season 2 regulars. Winona Ryder will be back as Joyce Byers along with David Harbour as Chief Hopper, our two main adult leads. All the kids are also back: Finn Wolfhard as Mike; Noah Schnapp as Will; Caleb McLaughlin as Lucas; Gaten Matarazzo as Dustin; and Millie Bobby Brown as Eleven.
We also have a chance for Eleven to make a girlfriend as Sadie Sink will also be back as Max, along with Dacre Montgomery as her older brother Billy. (We should note Cara Buono is also confirmed to be returning as Mike's mom, Karen — we'll have to see how things go with Billy.) In the older sibling department, Natalia Dyer will be back as Mike's sister Nancy and Charlie Heaton as Will's brother Jonathan, plus Joe Keery will be back even though Steve has now graduated.
As for anyone else guest-starring, like Linnea Berthelsen as Eight, Matthew Modine as Brenner, or Paul Reiser as Dr. Owens... we just don't know yet.
Stranger Things will return to Netflix in either very late 2018 or early 2019.