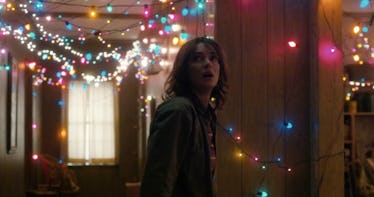 This Easter Egg In 'Stranger Things' Last Episode Of Season 2 Will Give You The Feels
Netflix
WARNING: This post contains SPOILERS for Season 2 of Stranger Things; if you have not yet watched Stranger Things 2 in full, and would like to avoid nausea, heartburn, indigestion, upset stomach, and diarrhea, then click away! Calling all amateur sleuths of the internet: If there is one thing we keep coming to this dumpster fire for, it's to read about hidden details and Easter Eggs in our favorite TV shows and movies. That being said, Stranger Things is back on Netflix for its second season and a new Stranger Things Easter Egg in Season 2 Episode 9 will give you all the nostalgia.
That's right, early on in the finale episode of Season 2, our fave cool guy, Steve Harrington, holds up a set of Christmas lights while he and Nancy are looking for space heaters in a pile of junk in the Byers' backyard; right away Stranger Things diehards will see the significance of the Christmas lights and lose their gosh damn minds. We all know how important those lights were to Joyce in Season 1, so their placement in the first few minutes of Season 2's finale definitely foreshadows the intensity of the rest of the episode; not to mention they're a nice nod to the beginnings of Stranger Things.
Though the Christmas lights are back for a quick cameo, a lot has changed this season on Stranger Things. There are tons of new monsters and new characters in Hawkins, Eleven is back — more powerful than ever — and living in a cabin in the woods, Nancy is with Jonathan (finally!), and Dustin has teeth. All in all, these changes prove the show's creator, Matt Duffer, wasn't kidding when he said Season 2 would feel different. In an interview last August with ING, the EP opened up about his plans for the show's second season, highlighting its "weirder" and "darker" nature; Duffer said,
We like thinking of these as movies, and it's going to feel very different, and I'm sure that a lot of people are going to prefer Season 1, but I think a lot of people will prefer Season 2, because I think it's going to be a little darker, and a little weirder. I think we feel like we have a license to go a little weirder in this season, so that's been a lot of fun. We're going to have a bit more VFX to play around with. We're really excited about it.
To be honest, it's hard to prefer one season over the other. Both have plenty of thrills, mystery, and suspense, and, as Matt Duffer's brother and co-creator of Stranger Things, Ross Duffer, said in the past, Stranger Things' second season is meant to be a sequel with "new tension"; Duffer told ING,
I think as much as possible we're thinking about it as a sequel. We want to call it Stranger Things 2. It was important in Season 1 that we have this very clear tension - Will Byers goes missing and it's about finding him and bringing him back. And we resolved that main tension, obviously. There are lingering questions, but the idea with Season 2 is there's a new tension and the goal is can the characters resolve that tension by the end. So it's going to be its own sort of complete little movie, very much in the way that Season 1 is.
"New tension" or not, one thing is for sure: Stranger Things 2 has the same suspenseful, mysterious air to it that made Season 1 such an overnight sensation, which is why the throwback to the Christmas lights is a nice, subtle touch. Not to mention the soundtrack this season is *kisses fingers like an Italian chef* magnificent.
If you need me, I'll be re-bingeing Season 2 and looking for more Easter eggs.
Check out the entire Gen Why series and other videos on Facebook and the Bustle app across Apple TV, Roku, and Amazon Fire TV.