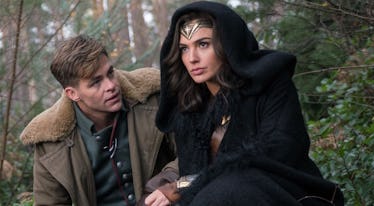 The 'Wonder Woman' Sequel Title Has Just Been Revealed & It Includes A Shocking Twist
Warner Bros.
We are finally getting our first peek at the Wonder Woman sequel, and it is a very shocking one! Director Patty Jenkins revealed the title of the upcoming movie posted the first photo from the film on Twitter on Wednesday morning, and it immediately started a mass hysteria among Wonder Woman fans. Why? Because the photo seems to reveal that, somehow, Steve Trevor is alive in Wonder Woman 2! It is a completely surprising reveal since audiences watched Chris Pine's character die in last year's Wonder Woman, but the new photo from the superhero sequel alive and well... and looking just as good as ever nearly 70 years in the future from the first movie.
Patty Jenkins announced the official title of her Wonder Woman sequel, which is scheduled to be released at the end of next year. The movie will be called Wonder Woman 1984, which also clearly lays out the time period that the film will be set in. Since Wonder Woman does not age, fans already knew that Gal Gadot would look exactly the same no matter what era the second movie would be set in, but in a shocking reveal, Jenkins posted a photo of Chris Pine as Wonder Woman's pilot love interest Steve Trevor walking around in 1984. Not only is this a shock because Steve Trevor was last seen in an exploding, poison-filled airplane, but aside from still being alive, he looks awfully good for someone who should be around ninety years old.
Check out the first-look photo from the movie below:
Of course, there may be other explanations for Steve Trevor's appearance in Wonder Woman 1984. Perhaps he only appears as a dream, memory, or a vision to Diana Prince. Then again, you can't really count anything out in these superhero movies — people cheat death in these things all the damn time! Maybe Steve was somehow able to travel through time from before his death in 1917 to 1984. Weirder things have happened.
After Patty Jenkins revealed the Wonder Woman 1984 title, star Gal Gadot also posted a shot from the upcoming movie, which shows Diana Prince getting acclimated to the newfangled technology of the '80s. The photo depicts Wonder Woman staring at a wall of TV screens:
Beyond these two new images, not much else is known about Wonder Woman 1984, but we do have some details about it. As Wonder Woman was set during World War I, Wonder Woman 1984 will be set during the Cold War, seeing Diana Prince in conflict with the Soviet Union. The movie will also introduce Kristen Wiig as the supervillain Cheetah. While Cheetah had multiple manifestations in the DC Comics, Wiig's version will be the British anthropologist Dr. Barbara Ann Minerva, who becomes possessed by a powerful Cheetah god after stumbling upon a lost ancient city.
The only characters that have been confirmed to be in Wonder Woman 1984 at this point are Wonder Woman herself, Cheetah, and Steve Trevor. Considering the nearly 70-year time jump between the first and second movie, it does not seem feasible that many of the characters in the first movie could return in the new one... but I guess if Steve Trevor is going to show up looking as good as ever, then the door could be open for anyone.
Wonder Woman 1984 has just begun its principal photography as of this month, but unfortunately, we are going to have to wait a pretty long time before we get to see it. Wonder Woman 1984 is slated to fly into movie theaters everywhere on Nov. 1, 2019.