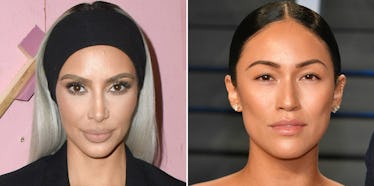 Kim K's Former Assistant Steph Shep Has A New Job & It's Not What You'd Think
Vivien Killilea/Dia Dipasupil/Getty Images
Kim Kardashian's former assistant, Stephanie Shepherd (aka Steph Shep), has found herself a new gig that's a far cry from being Kim Kardashian's assistant. In an Oct. 29 episode of Keeping Up With The Kardashians, Kim K talked to her sister Kourtney about how she felt it was weird and unprofessional that Shepherd was so close with Kourtney. Fast forward one month, and Shepherd had been fired from her role in Kardashian's business. Now, Steph Shep's new job is proof she's not interested in being a celebrity's assistant anymore.
Shepherd is now modeling, and her first big campaign just launched with jewelry brand 8 Other Reasons. The campaign is called "WOMAN," and it features a series of photos showing Shepherd in various looks that highlight the brand's jewelry. You can check out the photos from Shep's campaign here, as well as on Shep's Instagram from the "WOMAN" launch party on March 14. The collection includes a bunch of statement rings and statement earrings that range from $27 to $72. It seems like Steph Shep is doing pretty well outside of the Kardashian world! Between the launch of "WOMAN" this week and her attending the annual Vanity Fair Oscars Viewing Party on Sunday, March 4, Shep has certainly been keeping herself busy.
Here are some of the photos from Shep's photo shoot with 8 Other Reasons.
Girl, yes!
My skin will literally never glow this much.
Come on, Steph Shep!
Shep posted photos from 8 Other Reasons' "WOMAN" launch party on her Instagram story on Wednesday, March 14.
She also slayed on the Vanity Fair Oscars Viewing Party red carpet on Sunday, March 4.
But, uh, guys... am I the only one who thinks this dress looks really familiar?
Is it because Kim Kardashian wore a really freaking similar one to an Oscars viewing party in 2015? Yup!
But hey, Kim K doesn't own red dresses, so it's all good, Shep. You both slayed. Speaking of Kim K, why did she fire Steph Shep? According to that Oct. 29 episode of KUWTK, Kardashian felt Shepherd wasn't taking her job as her assistant seriously enough and was more focused on her friendships with Kardashian's family than with work. A source also told Us Weekly that a Refinery29 profile about Shep caused some turmoil. They said,
Stephanie started thinking she was a celebrity herself, and Kim didn't like that. Everything started going downhill after the Refinery29 article came out ... Things aren't how like they used to be. Stephanie does still hang out with the family and Kim and her are cordial when they see each other, but it's different.
Another source, however, told the outlet that Shep's exit wasn't due to her perceived growing fame — it just wasn't a good fit anymore. "Kim and Steph are still friendly and still speaking," they said. "Kim wouldn't say that Steph thinks of herself as a celebrity. Kim respects Steph and wants her to do well." According to People, Shep had asked for more responsibility in Kardashian's businesses that would take her out of the assistant role and into more of a leadership role. Kardashian reportedly let this happen, but realized soon after that Shep wasn't prepared for the specific role she was put in and that's what led to her being let go. The source told People,
Kim made a decision to let Stephanie go ... She was a good assistant but when Stephanie wanted to transition into a larger role with Kim's brand and businesses, it just didn't work. Kim gave her the chance, but after a short period of time it became clear that Stephanie just didn't have the knowledge to take on a role like that. Kim made an executive decision to part ways.
Fans of Shep wondered what her relationship with Kim K was like after she was fired. There was lots of talk that Shep and Kardashian ended on bad terms and no longer spoke to each other, but Kim K seemingly shot down those rumors by sending Shep a Kimoji Hearts press box for Valentine's Day.
Shep posted a photo of the "Ride or Die" press box on her Instagram, showing she doesn't feel any bad blood for her former boss.
So it looks like things are cordial, at the very least, with Kim Kardashian and Stephanie Shepherd. And now she's modeling! What a time, guys. What a time.