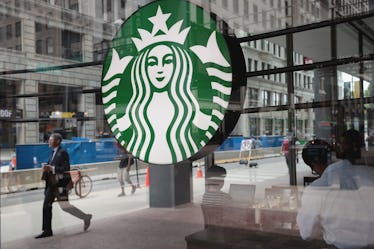 Here's What We Know About Whether Starbucks Will Be Open On Thanksgiving Day
Scott Olson/Getty Images News/Getty Images
Thanksgiving Day is a time to stuff your face with turkey, stuffing, mashed potatoes, cranberry sauce, and other traditional foods. This all sounds great and all, but what about your daily Starbucks fix? If you are an avid Starbucks customer like I am, you might be wondering to yourself, "Will Starbucks be open on Thanksgiving Day?" The short answer is yes, but Starbucks' Thanksgiving 2018 hours of operation will depend on which location you visit.
A representative from Starbucks confirmed to Elite Daily that many of its stores across the U.S. will be open on Thanksgiving Day, but not all locations will be serving up brews. I know, it's kind of a vague answer. It's going to require a little work on your part, but anything for coffee, right? So, how do you know which stores are open and which ones are not? My best advice to you is to call around to Starbucks stores in your area for a more accurate read on their Thanksgiving Day hours. You can also check Starbucks' store locator to review individual location hours, but it's always best to call before you make the trek — especially on a holiday like Thanksgiving Day.
Be prepared that certain Starbucks stores may have reduced hours due to the turkey day holiday. The coffee company's Thanksgiving Day hours will vary by location, according to Starbucks. You can also take the initiative to ask on your next trip to Starbucks prior to Thanksgiving. Regardless, the good news is that you can still swing by Starbucks on Thanksgiving Day.
Once you've had your fill of turkey and pie, you're probably going to be ready for a nap. That's just a fact of stuffing your face and I'm OK with it. But for anyone who is looking for a little post-dinner pick-me-up on Thanksgiving Day (me), a trip to Starbucks might be a good idea. This is Especially true if you plan to hit up any early Black Friday sales on Thanksgiving night. You can get your shop on at stores like Macy's, Target, and Walmart on Thanksgiving Day. Just a note that many retailers like Nordstrom, Ikea, and H&M have said their stores will stay closed on Thanksgiving Day, according to USA Today. Whatever your shopping preferences are, Starbucks is always a good idea (even when you're browsing deals from your couch).
You could skip dessert and opt to order a sweet holiday drink from Starbucks on Thanksgiving Day. After all, Starbucks' holiday drink lineup is amazingly delicious. My go-to is the Peppermint Mocha. I'm a sucker for anything that is reminiscent of mint chocolate chip. There are many of the usual holiday favorites gracing the menu this year like the Chestnut Praline Latte and the Gingerbread Latte. But can we take a minute to talk about the brand new holiday cups? Starbucks introduced four new retro cup designs for the holiday season and each one will leave you feeling merry and bright.
If you'll be stopping by Starbucks on Thanksgiving Day, I suggest that you be extra nice to your baristas and tip them generously. Don't forget to give your local Starbucks a call to make sure they are open on Thanksgiving Day.