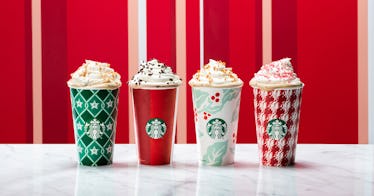 This Year's Starbucks Holiday Cups Feature These Gorgeous Retro Designs
Starbucks
The most wonderful time of the year is *finally* here. I'm talking about the release of Starbucks' 2018 Holiday cups, of course. Sure, the buildup to the Pumpkin Spice Latte got a lot of coverage, but what about these brand new gorgeous holiday cups from Starbucks? This year, the holiday cups feature four new absolutely stunning throwback designs. Each one is the picture of holiday perfection, IMO. The red and green coffee cups are perfect for Instagram (pics or it didn't happen). Now that Halloween has come and gone, you've got plenty of time to order up a cheerful sip from each one these holiday cups this winter.
On Friday, Nov. 2, Starbucks is rolling out its 2018 holiday cups, and OMG, I can't wait to get my hands on one. As I mentioned, there are four classic designs on each of the Starbucks holiday cups this year including cups that are modeled after holiday stars, a branch of coffee cherries, and a flame. The inspiration for the Starbucks Holiday 2018 Cup designs came from past holidays and is a nod to the "nostalgic and joyful taste of the season," according to Starbucks. Graphic artists for the Seattle-based coffee store added throwback colors and patterns like mint green and argyle into the designs. Of course, each cup has its own bit of holiday flair with glitter and shine.
"When you come into Starbucks, there's a festive vibe," Kristy Cameron from the Starbucks Creative Studio said in a press release. "Our customers have told us that the return of Starbucks holiday cups and beverages are a signal the season is upon us. We hope they feel the holiday magic that only Starbucks can create during this special time of year."
If you're wondering where the tried and true holiday red cup is, don't worry. Starbucks wouldn't leave the cult favorite cup out. This year, the iconic red cup is getting an eco-friendly upgrade and will be reusable. On Friday, Nov. 2, you can get a complimentary, limited-edition reusable red cup when you order any holiday drink (!!!) from Starbucks.
There is another perk that comes with your free reusable red cup. Customers who purchase a holiday drink using their reusable red holiday cup any day between Nov. 3 and Jan. 7 after 2 p.m. can enjoy 50 cents off of their drink order. Basically, you can bring your reusable red cup to Starbucks or enjoy sipping on Starbucks' Christmas Blend at home using your holiday red cup. It's the gift that keeps on giving.
So, what will you fill up your Starbucks Holiday Cup with? I've got six seasonal drink suggestions for you. Starbucks is also rolling out all of your favorite holiday drinks, including:
Peppermint Mocha
Toasted White Chocolate Mocha
Caramel Brulee Latte
Chestnut Praline Latte
Gingerbread Latte
Egg Nog Latte
I'll always love you, PSL, but this time of year I'm all about the Peppermint Mocha. This one is hands-down my favorite holiday drink from Starbucks. It's such a cheerful drink that's made with steamed milk, sweet mocha sauce, and peppermint-flavored syrup. Normally I'm a no whip kind of person, but not when it comes to the Peppermint Mocha. You can give me all of the sweet whipped cream topped with dark chocolate curls. Yesssss.
It's safe to say the holidays are in full swing at Starbucks now. I'll see you in line for one of these gorgeous new holiday cups and a Peppermint Mocha.