You may want to consider postponing those after-work drinks with friends on Friday because there is a new kind of happy hour taking place. There's no better way to kick off the weekend than with free coffee from Starbucks. Starbucks' Sept. 14 Happy Hour has BOGO espresso drinks for you and a friend, and it even includes the fan-favorite Pumpkin Spice Latte.
On Friday, Sept. 14, Starbucks is offering buy-one-get-one (BOGO) free handcrafted espresso drinks, per the chain's official Happy Hour website. The freebie deal kicks off at 3 p.m. local time at participating Starbucks locations nationwide. Go ahead and make a date with your BFF to enjoy an espresso-based drink on the house when you purchase a drink of equal or lesser value. The Happy Hour deal applies to beverages that are size grande or larger.
Starbucks' Happy Hour is a weekly event that usually falls on a Thursday afternoon. This week, the deal happens to take place on a Friday and I couldn't be more excited about it. After a long week, a refreshing espresso drink from Starbucks is just what I need to rejuvenate me for the weekend. BOGO espresso drinks are one of my favorite Happy Hour promotions because it includes such a wide variety of some of Starbucks' best beverages. My go-to drink is the Iced Caramel Macchiato. I usually add in an extra shot for maximum caffeine consumption.
As I mentioned above, this promotion does include Starbucks' Pumpkin Spice Latte. The PSL is made with Starbucks' signature espresso and creamy milk. It brings together fall's boldest flavors such as pumpkin, cinnamon, nutmeg and clove flavors for a sip of the crisp, cool, and cozy season. The official start of fall isn't until Saturday, Sept. 22. If you've been holding out on ordering a PSL until the autumn equinox, I'm going to advise you to break the rules. Starbucks' Happy Hour BOGO is the perfect opportunity to sip on the tastes of fall — all for a great value.
Are you thirsty yet? Here's what you need to know about participating in Starbucks' Sept. 14 Happy Hour. You're going to need a code to show your barista if you want to enjoy a second drink at no additional charge. There are two ways to do this. First, you can go to the Starbucks Happy Hour website and provide your first and last name, email address, and zip code. This is the fastest and easiest way to get your Starbucks Happy Hour code. Once you've submitted your personal credentials, Starbucks will follow up with an email. Included in the email is a code. Show this to your barista when you pay for your order on Friday, Sept. 14.
The second way is to become a Starbucks Rewards Member. This step is a little more involved but takes less than 60 seconds, all said and done. You will need to provide Starbucks with your first and last name and zip code. You'll also be prompted to create an account using a valid email address and secure password. Starbucks does require that you have a gift card to set up your account. If you don't have one, the Seattle-based coffee retailer will issue you an instant digital card to finish setting up your account. Once your account is set up, download the Starbucks app for iOS and Android devices. Log in to the app and navigate to the "Inbox" and then the "Messages" folder. This is where you'll find your Happy Hour promotion to show your barista to claim your BOGO deal.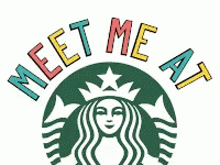 Don't forget to bring a friend with you on Friday, Sept. 14. Cheers! (Oh, and TGIF.)