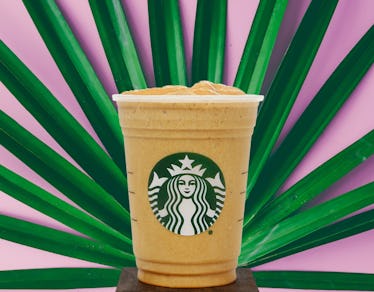 Starbucks' New Protein Blended Cold Brews Have Me Feeling So Excited
Courtesy of Starbucks
Let's be honest, Frappuccinos may be delicious, but sometimes they can just be a little too sugary for some. For those coffee lovers who are looking for a light and refreshing beverage this summer, Starbucks' protein blended cold brews are the answer to all of our prayers. Sit back, sip, and enjoy.
On Aug. 14, Starbucks unveiled two new drinks to this season's menu, the Almond Protein Blended Cold Brew and the Cacao Protein Blended Cold Brew. Not only are both of these delights totally plant-based and dairy-free, but the highly caffeinated cold brew will give you a nice buzz to get the day (or evening) started while the blended textures will give you that feeling of sipping your favorite frothy Frappuccinos, but on the lighter side. Do you hear that? That's my feet running to the closest Starbucks near me.
So what exactly goes into creating these delicious new drinks? According to a press release, Almond Protein Blended Cold Brew is made out of Starbucks Cold Brew with almond milk, plant-based protein, almond butter, Banana Date Fruit Blend and ice and has 12 grams of protein. The Cacao Protein Blended Cold Brew consists of Starbucks Cold Brew with Coconutmilk, plant-based protein, cacao powder, Banana Date Fruit Blend and ice and has 10 grams of protein.
Best of all? Both of these drinks are under 300 calories. Sign me up.
For those who are dying to get their hands on these limited edition drink specials, you better hurry to the closest Starbucks nearby. Safe to say, they won't be around for too long. I'm not sure what which drink I'm more excited to try, but obviously I'm going to try them both.
This summer is clearly cold brew season, and I'm definitely not complaining. I'm still thinking about last month when Starbucks introduced the Salted Cream Cold Foam Cold Brew to its menu. That was seriously a total game changer for the coffee chain. From the slightly sweetened caramel cold brew to the refreshing and frothy salted cream cold foam, I wasn't sure that Starbucks would ever be able to top this menu addition. However, now that these two new healthy protein drinks are gracing the menu for a limited time, they might be giving this salted foamy cold brew a run for its money.
Cold brew is definitely summertime's elixir, but fall is creeping up faster than expected. As those leaves start to change colors and the air gets crisper, you know what that means: pumpkin spice season. So enjoy those blended cold drinks while you can folks, because by fall you'll probably be switching out those refreshing drinks for something a bit on the warmer side. Rumor has it that Starbucks will be reintroducing its signature Pumpkin Spice Latte on the earlier side this year, but they have another little surprise up their sleeve that will have customers even more excited. As of Monday, Aug. 13, Starbucks' Pumpkin Spice Cookie Straws will be hitting select stores in the United States. So for those who hate to see summer end, at least you'll be able to sit back and eat a cookie or two in mourning.
Luckily for us, we still have a few precious weeks of summer left. Grab those specialty (and healthy) drinks everyone, and I hope you enjoy.