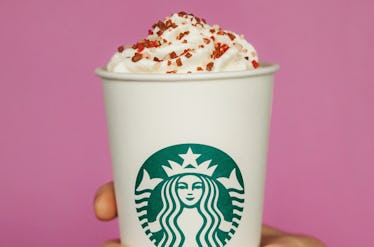 Starbucks Released A Latte For Valentine's Day & You're Gonna Fall In Love With It
Starbucks
Valentine's Day is always kind of bitter-sweet. I honestly can't remember that last time I actually had a valentine (no shame) — so for me, it's usually a treat yo'self day full of friends, red wine, and candy hearts. However, this year I'll be able to treat myself to a sweet new Starbucks drink inspired by the romantic holiday. That's right: Starbucks' new Cherry Mocha is here, and it sounds like the perfect way to indulge in some self love this February. Trust me, you're going to swoon once you read the details.
Starbucks' Cherry Mocha will officially be available in participating stores across the U.S. and Canada on Wednesday, Feb. 7. Don't wait too long before you try it, though, because it's only going to be available until Feb. 14 (aka, Valentine's Day). In other words, the sweet new Starbucks drink will only be available for one week — so make sure you don't waste any time.
Now that you know when the Cherry Mocha is going to be available, let's talk about how it tastes. (You probably want to know those details before you order it, right?) Well, this one tastes exactly like it sounds: a chocolate-covered cherry. I already know I'm gonna fall in love with it.
So, what gives a Cherry Mocha its chocolate-covered cherry taste? According to Starbucks, it's the sweet mocha sauce and candied cherry syrup. To make the drink, baristas pour hot espresso over the mocha sauce and cherry syrup. Then, they add steamed milk, and top it off with whipped cream and Valentine's Day sprinkles. How cute, right?
If you're not into warm pick-me-ups, have no fear: You can order the Cherry Mocha hot, iced, or blended. Personally, I can't imagine ordering a cold drink when it's freezing outside — but maybe we'll get lucky with a few warm temps between now in Valentine's Day. If not, I'll stick with the hot version. However, if you're curious about what the iced Cherry Mocha looks like, check it out below. (It's pretty appealing, TBH.)
Now that you know all the tasty deets about the Cherry Mocha, you can start planning your Starbucks trips leading up to Valentine's Day. Heck, this drink will probably sweep you off your feet better than any date would... am I right?
Starbucks' Valentine's Day fun doesn't end with the Cherry Mocha, though. The coffee company released Confetti Heart Cake Pops and Heart Sugar Cookies that'll be the perfect addition to your Cherry Mocha purchase. The sweet cake pops are made of rich chocolate cake, and are coated with milk chocolate icing and heart candy sprinkles. The sugar cookies are topped with a white or pink chocolate coating and colorful sprinkles. TBH, I'd rather get a few of these on Valentine's Day than a standard heart-shaped box of chocolates.
Aren't they cute? I think the pink Heart Sugar Cookie is my favorite... mostly because pink is my favorite color.
If you're also into the color pink, you'd probably love Starbucks' Pink Medley Tea Latte. Why? BECAUSE IT'S LITERALLY PINK. Apparently, the rose-colored drink includes tastes of jasmine tea, peach, apple, orange, and strawberry. It's a lot different than the new Cherry Mocha, but it looks freaking beautiful.
Before you run to your nearest Starbucks in pursuit of the pink-colored latte, I have to tell you the bad news: It's only available in Japan, which means it'll be a little tough to try (unless you're in Japan, of course). It's OK, though — we still have Starbucks' Cherry Mocha to drink until Valentine's Day. It's not pink in appearance, but I'm sure the flavor will make up for that.
Check out the entire Gen Why series and other videos on Facebook and the Bustle app across Apple TV, Roku, and Amazon Fire TV.