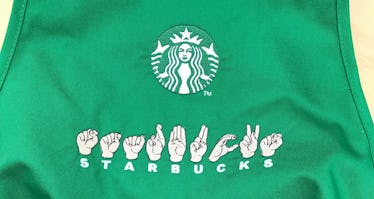 Starbucks Will Open A Store For Customers Who Are Hard Of Hearing & It's A Good Step
Starbucks
Starbucks is brewing up a new business model for those who are hard of hearing. Starbucks is opening a Signing Store for deaf customers later this year. The Seattle-based coffee chain broke the news on Thursday, July 19. The location will be the first-of-its-kind to open up in the United States with the goal of helping the coffee shop extend their reach to accommodate its diverse customer base, according to Starbucks.
The Signing Store is slated to open in early October and will replace a previous Starbucks location in Washington D.C. at 6th and H Street, according to Starbucks. It's the perfect spot for the Signing Store. The storefront located nearby Gallaudet University, a school that specializes in the education of the deaf and hard of hearing.
Starbucks plans to hire 20 to 25 deaf, hard of hearing, and hearing partners to work at the new store. The coffee retailer will require that all employees who staff the Signing Store be skilled in American Sign Language in order to properly communicate with deaf and hard of hearing patrons.
Starbucks was inspired to open up their first Signing Store in the U.S. after opening a location in Kuala Lumpur, Malaysia in July 2016. You could see more stores open up in the years to come, as Starbucks sets its sites on bridging the gap for customers with disabilities.
"This is a historic moment in Starbucks ongoing journey to connect with the Deaf and hard of hearing community, hire and engage Deaf and hard of hearing partners, and continue to find ways to be more inclusive, accessible and welcoming to all," said Rossann Williams, Starbucks executive vice president of U.S. Retail., in a press release.
According to Starbucks, the Signing Store will "create a distinctive retail experience for all customers." Starbucks put together a team of partners to help develop the concept store in D.C. The group includes members from the Starbucks Deaf Leadership, Accessibility office, and Access Alliance partner network who strategically implemented ideas to make ordering a cup of coffee a more pleasant experience for those who are deaf and hard of hearing.
At the new locale, baristas will wear American Sign Language aprons that are stitched by workers at a deaf company, as well as a pin that reads "I Sign." This way, deaf and hard of hearing patrons can easily identify and communicate with sign language-friendly employees. Additionally, the layout of the new store will feature an open design, as well as a variety of visual communication options for placing and picking up an order.
To further show their support for the deaf and hard of hearing community, Starbucks will showcase artwork and other products designed by deaf artists. Starbucks has long been committed to creating an inclusive space for people from all walks of life to enjoy. For the coffee chain, the goal is to make all customers feel welcomed, respected, and valued when entering their stores. By opening a Signing Store in the United States, Starbucks is one step closer to reaching their goal, and they don't show any signs of slowing down.