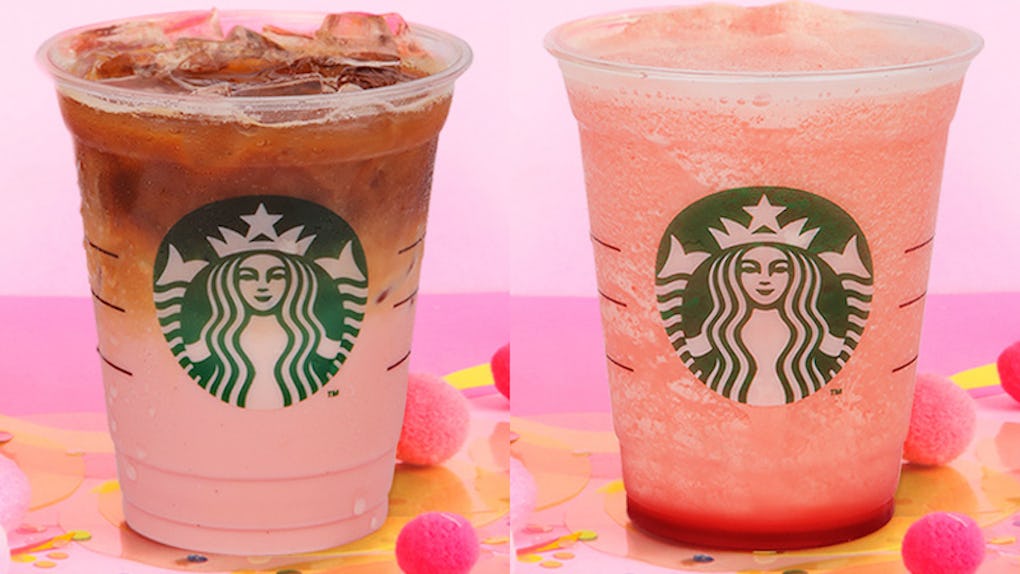 Starbucks
Starbucks Indonesia's Pink Drinks For Breast Cancer Awareness Month Look Delicious
Put your PSL down for a moment, because three new drinks hit the Starbucks menu that you don't want to miss. The new sips are here for the month of October, but they weren't created to give you autumn vibes. Instead, they're here to honor Breast Cancer Awareness Month. More specifically, Starbucks Indonesia's pink drinks for Breast Cancer Awareness Month are part of the company's returning #PINKVOICE campaign — and if you order one of them, the proceeds will go to Lovepink Indonesia. Once you find out more about the special sips, you'll want to try one ASAP.
By now, you might have noticed one thing: Starbucks #PINKVOICE campaign is only taking place in Indonesia, which means you'll have to book a trip there in order to try the new beverages. But if a trip to Indonesia isn't in your budget, I'll tell you a little bit more about the campaign so you can honor the cause on your own. According to Starbucks, this year's #PINKVOICE theme is "Chat That Matters 'Talk About It, Share It, and Save More,'" which was created to encourage people to talk about breast cancer awareness in their daily lives as a preventative method. As I previously mentioned, the company released three new drinks to help promote the cause, and they sound delicious.
After readying about 'em, you might want to book that trip to Indonesia.
Strawberry Cold Foam Iced Espresso
As someone who loves Starbucks' cold foam, I'm all about this drink. The Strawberry Cold Foam Iced Espresso is exactly what it sounds like: an iced espresso beverage topped with strawberry cold foam. In my opinion, this would be the perfect drink for anyone who's looking for a sweet pick-me-up on a warm October day.
Iced Pink Macchiato
The Iced Pink Macchiato is another iced coffee drink that'll add some sweetness to your morning. According to Starbucks, it starts with a mixture of milk, strawberry syrup, and vanilla syrup. Then, it's topped with espresso that gives the drink its gorgeous ombré look.
Fantasia Yoghurt Frappuccino
This frozen drink is perfect for anyone who loves the taste of berries. According to Starbucks, the Fantasia Yoghurt Frappuccino is made with a mixture of strawberry syrup, vanilla syrup, milk, and ice. Then, it's topped off with raspberry whipped cream (YUM). TBH, this drink would be a delicious dessert for anyone craving a sweet treat without the coffee flavor.
After reading more about Starbucks Indonesia's drinks for its #PINKVOICE campaign, you might be inspired to give them a try. If you're already in Indonesia and are hoping to take a sip, keep in mind that the proceeds from your purchase will go to Lovepink Indonesia. For reference, Lovepink Indonesia is an non-profit organization that encourages early breast cancer checks (self and clinical), in addition to mentoring women with breast cancer. That's a pretty great cause, if you ask me.
If you can't make it to the other side of the globe to try one of the new pink drinks, you can always honor Starbucks Indonesia's #PINKVOICE campaign by talking more about breast cancer awareness in your day-to-day life. That's what this year's theme is all about, anyway.